Designed and approved by our partner Display Solution AG in Europe, the new line of digital door sign interface kits offers impressive benefits and extra features at a significantly lower price.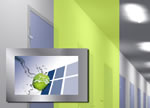 – High quality TFT displays from well-known manufacturers in sizes 10.1", 14", 15" and 18.5" as standard kits
– PC-Less Design (NO PC!)
– No Operating System required
– Low-Power
– Two possibilities for Software Integration
– Working as extended Desktop from Windows OS:
Allows simple integration with standard software like Powerpoint and almost any content management tool. It supports not only static content but also videos and animation. Up to 6 door signs on one PC without any additional graphics card. Soon up to incredible 14 monitors on just 1 PC – enabled by DisplayLink's Multi USB Monitor technology.
– Working as an independent Display Unit
Allows connection of more than 100 display units to one PC. An SDK allows the developer to integrate the door sign application in their own software. It is the most cost-effective solution for static display content.
– Further USB-ports endorses the integration of up to three additional USB-devices e.g. touch-controller, printer, scanner, etc.
– PoE (Power over Ethernet) option supports all display sizes and allows operation over a single Ethernet-cable. Avoiding additional power wiring cuts down installation costs
– WLAN option requires only a simple power supply and no additional network cabling
– Enables slim design – 25–35 mm
– Competitive and low cost
"Driving down the total costs for information displays and digital door sign projects was key aspect for developing novel and competitive LCD kit solutions," said Norbert Feuchtgruber. "Utilizing future technologies significantly reduces investment in hardware (PCs), as well as licence charges for digital signage software. Low power operation and low integration costs enable unprecedented opportunities."
Suitable for all discerning innovative applications like electronic door signs, conference room signs, visitor guidance systems (Wayfinders) and all digital sign projects.
We supply these as kits for integrators / resellers to build into their required housing and look.
Please also check out our LCD Displays and Interface Cards
For more information and specifications please contact us at info@crystal-display.com
We also offer a wide range of open frame monitors, please see http://crystal-display.com/wp-content/uploads/2013/05/Crystal-Display-Industrial-and-Gaming-Monitor-Overview-2013.pdf