IR Multi Touch from CDS

.
CDS have now added a new range of Multitouch overlays from ZaagTech to our range.
The touchscreens are available in any size from 32″ to 200″ and are available with 6 point multi touch.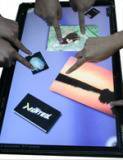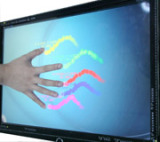 .
.
.
.
.
Video Demonstration:
Features:
• Communication port: USB 2.0 Full Speed
• Supports 6 precise touch points (Customized up to 10points)
• Powered by USB; one cable for power or external powersupply (Optional)
• Ultra-Low Power Consumption:Operating ≤750mW; Standing by ≤ 250mW
• Extremely low-cost
• Accurate and Reliable
• No Ghost Point
• Drift-free
• Flexible; full mouse functionality with the touch of yourfinger or any object
• Landscape or Portrait Orientation
• Any touch, finger, gloved hand or pointer (with diameter≥ 5mm)
• Calibration; four-points with no drift
• TUIO supported
• Compatible with Windows 7, Vista, XP, Mac OS*, Linux* * Particular server program required
Samples are now available!
If you have any questions, please don't hesitate to contact us.