INDOOR E-PAPER DISPLAYS
BATTERY POWERED CABLE LESS SOLUTIONS
WHAT IS CDS E-PAPER?
E-Paper, also known as electronic paper or electronic ink display, has a paper-like high contrast appearance and an ultra-low power consumption and effectively mimics the appearance of ordinary ink on paper.
The display is an electronic replacement for traditional paper that we can use for reading things like books, magazines and more. E-Paper, much like real paper, reflects available ambient light (although they can also incorporate a front-light to improve readability in dark surroundings), thus uses much less power than traditional LCDs or OLEDs
The E-Paper pixels are bi-stable in that once they have been set at a particular grey or colour state will remain in the same display state almost indefinitely until they are forcibly changed. This is unlike LCDs or OLEDs which have to be continuously refreshed, whether they change state or not. As a result of this E-Paper displays can consume a fraction of the power any other display technology would require. It is quite possible to run a 32" diagonal, full 4K display, from a small battery or solar panel. The Kindle Paperwhite, which uses this technology, is advertised as being able to last for weeks without recharge.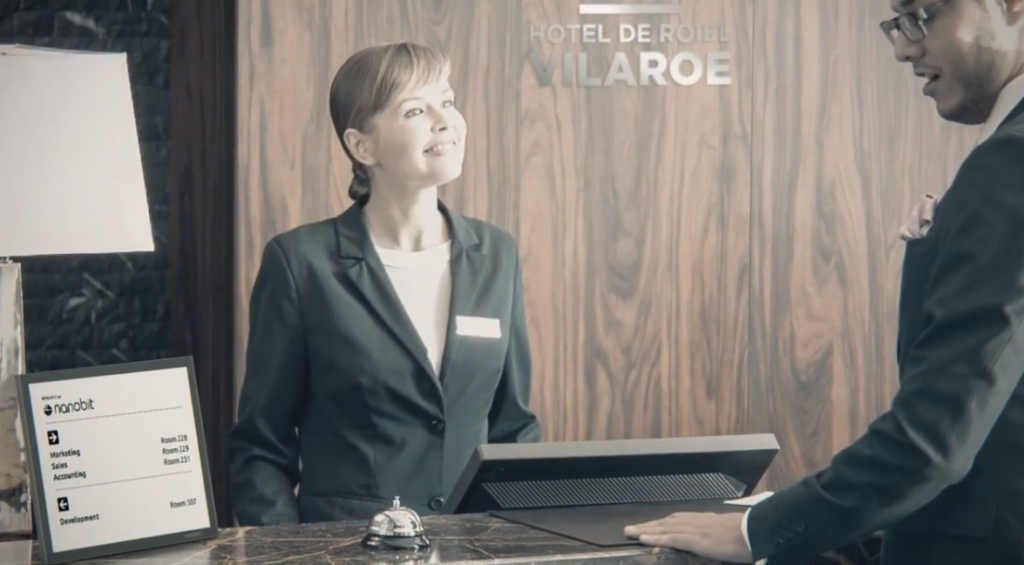 PREMIUM FINISH TO SUIT EVERY ENVIRONMENT
Impeccable readability, with the feel of ink on paper. No glare, no light pollution. Enclosed in a precision-brushed aluminum casing that is enforced with the most durable glass pane ever created to protect from scratching and hazing to suit every application.
Our Indoor E-Paper Solutions are available in 13″ and 31.2″.
The units can be produced in either Graphite Black or Slate Grey depending on your preference.
Completely cable-less, our battery powered displays could not be easier to install, delivering a sleek, modern solution into every application.
We have a full cloud based CMS system to handle your content, allowing you to update the displays over the network.
Scheduling playlists and managing your content could not be simpler.