General Touch IR Touchscreens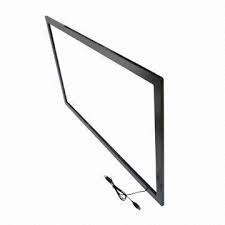 GeneralTouch Infrared Touch screen technology Major features
1. High stability
Any changes of time or environment will not cause any drift.
2. Comprehensive adaptability
The touch screen resists any interference from current, voltage
or static and is suitable for use in particularly harsh or rugged
environments.
3. High light transmittance
The touch screen has no intermediate touch overlay, enabling
light transmittance to reach as high as 100%.
4. Long service life
Extremely durable, scratch resistant and with a touch point density as high as 4096 x 4096.
5. Easy activation
No touch pressure is required; no special material is required for touch activation; any material,
whether soft or hard, whether conductor or nonconductor can be used as an activating stylus.
Specification

Input Method

Finger ,Gloved hand or Stylus activation

Touch Activation Force

No minimum touch activation force is required

Input Voltage

+4.5V~+5.5V DC

Working Current

180mA

Average Power Consumption

≤900mW

Physical Resolution

2.5mm

Minimum Stylus Size

>5mm

Resolution

4096×4096

Responding time

18ms

Interface

EIA 232E

Compatibility

Complied with Protocol for GT Controller 4001S Ver1.0

Special

PnP

ACPI

IMPI(Intelligent Multi-Point Identification)

Transparency

100%(Without Protection Glass)

≥92% (With Protection Glass)

(…….)

Working Environment

Temperature

-10°C to 55°C

Relative Humidity

0% to 95%non-condensing

Altitude

3000m

Storage Environment

Temperature

-20°C to 85 °C

Relative Humidity

0% to 95%non-condensing

Agency Approval (in future)

CE, FCC,UL
We can offer our IR Touchscreens with standard glass, custom glass, or as bezel only and is now available in a wide range of sizes up to 200″.
For more info on our IR Touchscreens please contact us