Rear Mount Chassis Monitors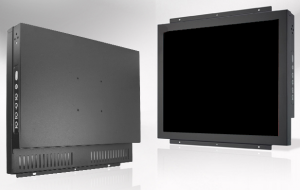 Our rear-mount chassis monitors have a bezel, with angled mounting brackets at the sides. They are especially suited for mounting
behind a switch panel. We offer Aspect Ratio 4.3 as well as Wide Screen formats, in sizes from 5.7" to 65".
Optional integrated touch-screen with Resistive, SAW, Capacitive or IR-Multi Touch technology are available.
Our Chassis mount series is specifically designed for the industrial rear mount LCD and customized for industrial environments and installations. They feature wall mounts, chassis, open frame styles and combines special mounting applications. We have various chassis mounts sizes with various touch screen options.
Sizes = from 5.7″ up to 65″ diagonal.
Resolutions = from 640 x 480 up to 1920 x 1080 FHD
Features: DVI, Video, Analogue VGA, HDMI inputs, Protective glass, various touch options, IP standard housing (on some products).
Uses: Digital signage, CCTV / Security, industrial machines, advertising displays, Retail and in-store, Industrial Automation, POS, Kiosks, Medical, Transportation, ATM, Media Player.
| Size | Part Number | Active Width (mm) | Active Height (mm) |
| --- | --- | --- | --- |
| 15" | TP-150-001-SS | 304 | 228 |
| 17" | TP-170-001-SS | 338 | 270 |
| 19" | TP-190-001-SS | 375 | 300 |
| 19" Wide | TP-190W-001-SS | 408 | 255 |
| 21.5" Wide | TP-215-001-SS | 476 | 268 |
| 22" Wide | TP-220-001-SS | 474 | 296 |
| 32" Wide | TP-320-001-SS | 704 | 403 |
| 42" Wide | TP-420-001-SS | 939 | 530 |
| 46" Wide | TP-460-001-SS | 1025 | 579 |
| 55" Wide | TP-550-001-SS | 1213 | 689 |
| 65" Wide | TP-650-001-SS | 1442 | 815 |
| 70" Wide | TP-700-001-SS | 1551 | 871 |
| 72" Wide | TP-720-001-SS | 1601 | 903 |
| 80" Wide | TP-800-001-SS | 1773 | 997 |
| 84" Wide | TP-840-001-SS | 1871 | 1056 |
| 85" Wide | TP-850-001-SS | 1882 | 1067 |
Widescreen

If you have any enquiries, please contact us