21" & 32" Digital Posters
Advantages:
UK stock often available for speed of supply
High reliability solid state media player technology
Scheduling software Free of Charge with each unit (where applicable)
Sleek modern designs
Cost effective solutions
Lockable compartment to protect mass storage
Suitable for 24/7 usage
Free eco-friendly power timer to reduce costs and energy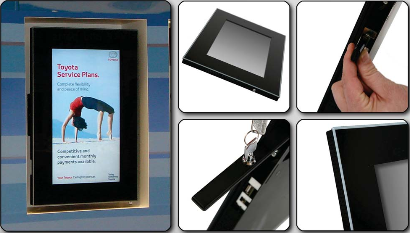 .
.
.
.
.
.
.
.
Contemporary Digital Posters are the perfect replacement for static posters.
The newly updated, slimmer range of portrait displays offer a modern and stylish method of displaying media.
The sleek, elegant tempered glass styling combined with their ability to be in constant use and great visual quality mean they offer many advantages over the traditional TV's being used.
The posters are also much brighter than TV's which makes them much more effective at catching your audiences vision, and have no buttons / controls on show.
The built in Media Player allows for a simple plug and play method for content update making them extremely user friendly.
They also have a lockable compartment for mass storage devices used to update the content. A free landscape wall mount comes as standard.
The screens are available in two different sizes, the 21" and 32".
These displays are also ideal to use in supermarkets, department stores, pharmacies, show rooms, banks, bars and restaurants as well as train / bus stations, travel agents, hospitals, schools, museums, cinemas and conference rooms.
If you have any questions, please dont hesitate to contact us.

.
.
.
.
.
.