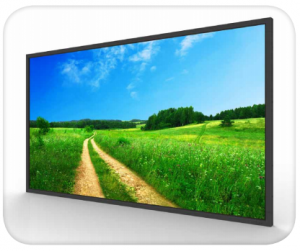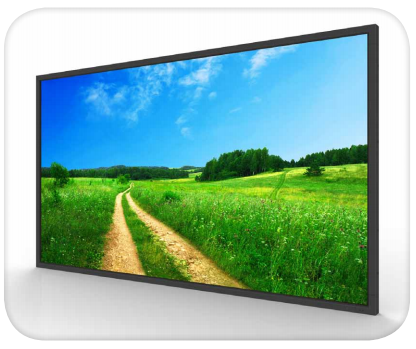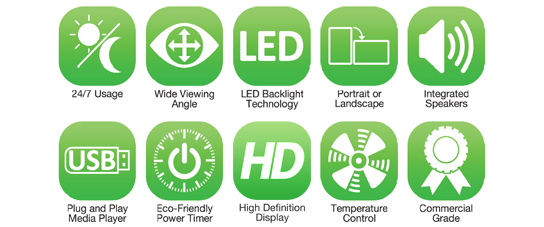 CDS' range of Low Cost Professional monitors with commercial grade panels with a long lifespan, durable models which are designed to be used 24/7, reduced power usage, with built in media players and are available from 32″ to 86″. More spec info as below;
Low Cost professional ProCom Monitors Range;
| Part Number | Description | Resolution | Dimensions | Brightness |
| --- | --- | --- | --- | --- |
| CM320V4 | 32" ProCom Monitor | 1920x1080 | 723.4 x 422.9 x 68 mm | 450 cd/m² |
| CM430V4 | 43" ProCom Monitor | 1920x1080 | 963.6 x 557.9 x 59.8 mm | 450 cd/m² |
| CM500V3 | 50" ProCom Monitor | 1920x1080 | 1096.16 x 632.5 x 59.3 mm | 450 cd/m² |
| CM550V3-B | 55" ProCom Monitor | 1920x1080 | 1232 x 708.9 x 59.3 mm | 450 cd/m² |
| CM650UHD | 65" ProCom Monitor | 3840x2160 | 1516.5 x 892 x 110.8 mm | 450 cd/m² |
| CM700UHD | 70" ProCom Monitor | 3840x2160 | 1633.1 x 959.25 x 112.8 mm | 450 cd/m² |
| CM860UHD | 86" ProCom Monitor | 3840x2160 | 2018.4 x 1189.5 x 117.9 mm | 450 cd/m² |
LED Backlight Technology
Utilizing the latest LED backlighting technology for the Low Cost professional Monitors offer improved brightness and contrast as well as drastically improving their lifespan and reducing their power consumption. These eco friendly lights are also mercury free; making them even more "green".
Industrial Grade Panel and Components
Fitted with an industrial grade panel, with a lifespan of 50,000 hours, and using high quality components ensures that this display can be in constant use 24/7 and maintain optimum performance and reliability.
Integrated Media Player
As well as having a vast array of AV inputs, this display also has an integrated HD media player allowing you to run content directly from a USB drive. Load your content onto a USB flash drive and then insert it into the display, the screen will then copy the files to the internal memory then start playing the pictures and videos in a continuous loop. Thanks to the content being stored on the internal memory, you can also remove the USB drive whilst in use.
Built-in Audio
The monitors have  two integrated slimline speakers for applications that require sound.
Eco Friendly Power Timer
The display can be programmed to automatically power up and down at reduced power usage by automatically powering off in hours that the display is not required. You can set daily On/Off times for your display.
Smart Temperature Control System
The internal air-conditioning system allows the screens to be in constant use. Internal fans keep the panel and other internal components at the optimum working temperature; ensuring a long and reliable life for your screens. You can even control the temperature range for which the fans become active.
Slimline Monitors with built in media players.
Panel PCs with built in computers.
Take a look at an example spec sheet for CDS Low Cost Professional Monitors as below;
For  more information on our commercial monitors, please contact us.