"The Outlook for Digital Signage in 2017 Is More, More, More" Article By Lyle Bunn
Strategy Architect, BUNN Co.
Yogi Berra wasn't referencing digital signage when he said, "It's very tough to make predictions, especially about the future." Digital signage and place-based media can apply present status, and, with a wide enough view of the lens and clarity into the depth, know what is coming in 2017.
The proposition is simple. More digital signage equals more wealth – for end users that apply it, and the suppliers that provide it.
2017 will be characterised by "more." But it is the life cycles of application and supply that will factor most significantly into the outlook for this media sector in 2017.
The outlook is threefold for end users in the year of the enabled consumer and omni-channel as both drive forward unabated. Firms that have used the media and assess its impact will increase their use, led by gap analysis and growth planning. In realising its investment worthiness early adopters will drive innovations in content strategy, tactic and composition, viewer targeting and day parting as well as operating efficiencies. Current users will drive significant industry investment as they expand their use. The best of suppliers will benefit most.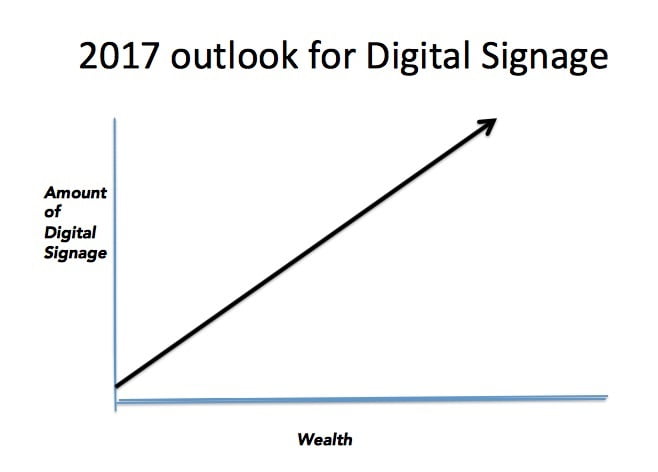 New users tend toward simple solutions as they minimise investment and risk in putting their foot in the water. Integrators and small suppliers will benefit most from new users.
The majority of users in the middle of the bell curve with new users at one end and the most experienced at the other will add employee hours to their operations as the medium finds a growing place within their enterprise. These will drive education and publication consumption to much higher levels.
More innovations will be driven by experienced end users seeking more business value.
More new deployments will be driven by the later majority of end users based on their confidence through seeing their competitors apply it.
More investment will be made as virtually all current end users seek to expand their benefits through incremental improvements.
Measurement, (the basis of investment decisions and approaches) has been pregnant with the gestation period of an elephant, though some can rightly say the analogy is closer to that of an acorn. (There is an oak tree in there, but all the conditions have to be right for even a sprout to appear beneath the light of day).
Digital signage has too often been considered in a fairly narrow range of benefits and the lack of tangible impact and attribution data that can validate increased investment has been the failing of end users and operators.
Analytics capability typically has required more effort than brains, so has not distinguished itself in operations. But "content" as the sibling of analytics, requires brains and optimising content requires analytics if it is to be treated as anything beyond craft and artistry into the science that it is.
Content delivers the value of digital signage once the technology is in place. The technology wants to, and will deliver more messaging productivity with more compelling images and more efficiency in 2017.
Content will be a significant growth area in 2017 as it contributes higher return on investment and validates technology investment. No end user wants digital signage. What they do want is greater efficiency in messaging and engagement impact.
More content strategy, tactics, audience targeting, day parting will mean significantly more content and innovation in composition.
More analytics and impact assessment will be used to drive content ROI.
Lyle Bunn, http://www.lylebunn.com/ 2017.
Original article compiled and published by rAVe Publications.