Our Slimline Wall Mount Android Digital Advertising Displays deliver the perfect digital signage solution.
Completely standalone solution utilizing the latest Professional LCD Displays with integrated HD Media Players.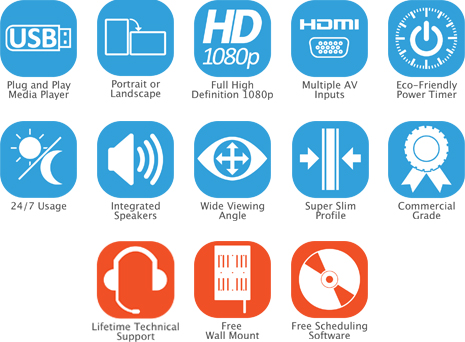 Introducing the new range of HD Slimline Digital Advertising Displays, with their built in HD media player they require no additional hardware such as PCs, DVD players, excess cables or  software,  you  simply  load  your  media  onto  a  USB  stick then plug and play.
Key Features & Benefits;
Button-less tempered glass face, rounded corners, super slim profile and aluminium frame all add to their

eye-catching tablet like aesthetics

.
Fitted  with  

commercial  grade

 panels providing them with a wide viewing angle, improved colour, contrast and brightness as well as the ability to be used 24 hours  a  day.
With  an  

eco-friendly  power  timer

 you  can  be assured of their green credentials and low operating costs.
Also  included  is  simple  and  intuitive  piece  of  

scheduling software

 which  allows  you  to  Schedule  different  content to play at different times of the day.
As well as this you can add

scrolling text

to compliment your content and get your message across.
The  new Slimline Digital Advertising  Displays  also  feature

HDMI  and  VGA  inputs

,  allowing you  to  connect  any  number  of external  devices  such  as  a  PC  or external media player.
A

free wall mount

 is  also  included  allowing you  to  mount  your  display  in both  landscape  and  portrait orientations.
Sizes Available;
| Size | Resolution | Brightness | Unit Size | Weight |
| --- | --- | --- | --- | --- |
| 19" | 1920x1080 | 450 cd/m² | 501x322x38 | 5.9kg |
| 22" | 1920x1080 | 450 cd/m² | 590x383x33.7 | 8.5kg |
| 32" | 1920x1080 | 450 cd/m² | 814x504x40 | 13.1kg |
| 43" | 1920x1080 | 450 cd/m² | 1045x638x63 | 22.8kg |
| 50" | 1920x1080 | 450 cd/m² | 1199x736x44 | 28.05kg |
| 55" | 1920x1080 | 450 cd/m² | 1366x837x50.1 | 39.7kg |
For a small charge you can also upgrade your screen to be networked, allowing you to remotely update your screen via LAN, WiFi or 3G.
Check out an example spec sheet as below for the 19″ version.
Check out our new Digital Signage Displays as well as our full range of Stretched Displays
For more details please contact us at info@crystal-display.com or call +44 (0) 1634 327420.