TFT Kit Solutions from CDS
Here at CDS we specialize in a wide range of display parts and accessories.
Many of our customers prefer to purchase an approved "kit" solution from us.
Kits can contain a wide range of parts, including displays, CCFL inverters, interface cards, cables and touchscreens.
Our kits and TFT controllers are industrial grade for maximum performance and reliability, plus are available long term, so you can design them into your application with the peace of mind they will be available in the future.
We are also able to provide custom kits if your requirement is a little more specialist.
TFT panel driver boards available – VGA, DVI and video input cards to drive a wide range of TFT panels
.
Example of components found in our kits: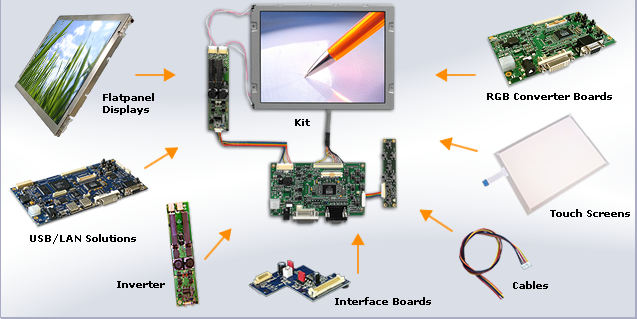 Advantages of a kit solution:
All components are tested together for optimized compatibility.
Complete solution for easy installation / integration
Full technical support across all items in the kit.
We can also provide the kit, in a chassis, for easy integration:

.
Please also check out our LCD Displays and Open Frame Monitors
If you would like to discuss your requirements in more detail, please contact us.
Click here to see our comprehensive list of TFT panels we have to offer.