Infrared (IR) Touch Overlays
Infrared IR touch screens are one of the most reliable touch technologies on the market today.
CDS infrared touch screens consists of a touch frame which is installed in front of the display. The frame is integrated with a printed circuit board which contains a line of IR-LEDs and photo transistors hidden behind the bezel of the touch frame. The bezel shields the parts from the operation environment while allowing the IR beams to pass through, so you are left with a grid of invisible beams in front of the display.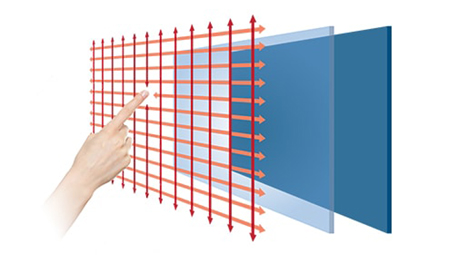 When a touch input is applied, it interrupts the IR light beams. The Photo transistors from X & Y axes detect the IR light beams which have been interrupted and transmit exact signals that identify the X & Y axes coordinates to the PC / host.
Applications for IR Infrared Touch screens include Kiosk, Medical instrumentation, ATM, Retail, Commercial transportation, Advertising display, Digital Signage and many other industrial applications.
Features:
True Multi Touch without Ghost
Slim Bezel
Cost Effective
Easy Installation
High Stability & Reliability
Integrated controller
Benefits:
1. High stability – Changes in the time or environment will not cause any drift.
2. High light transmittance – The touch screen has no intermediate touch overlay, enabling light transmittance to reach as high as 100%.
3. Long service life  – Extremely durable, scratch resistant
4. Easy activation – Touch pressure is not required; no special material is required for touch activation. An activating stylus can be used whether soft or hard – conductor or nonconductor.
Size possibility of CDS IR touch overlay (large touch screen)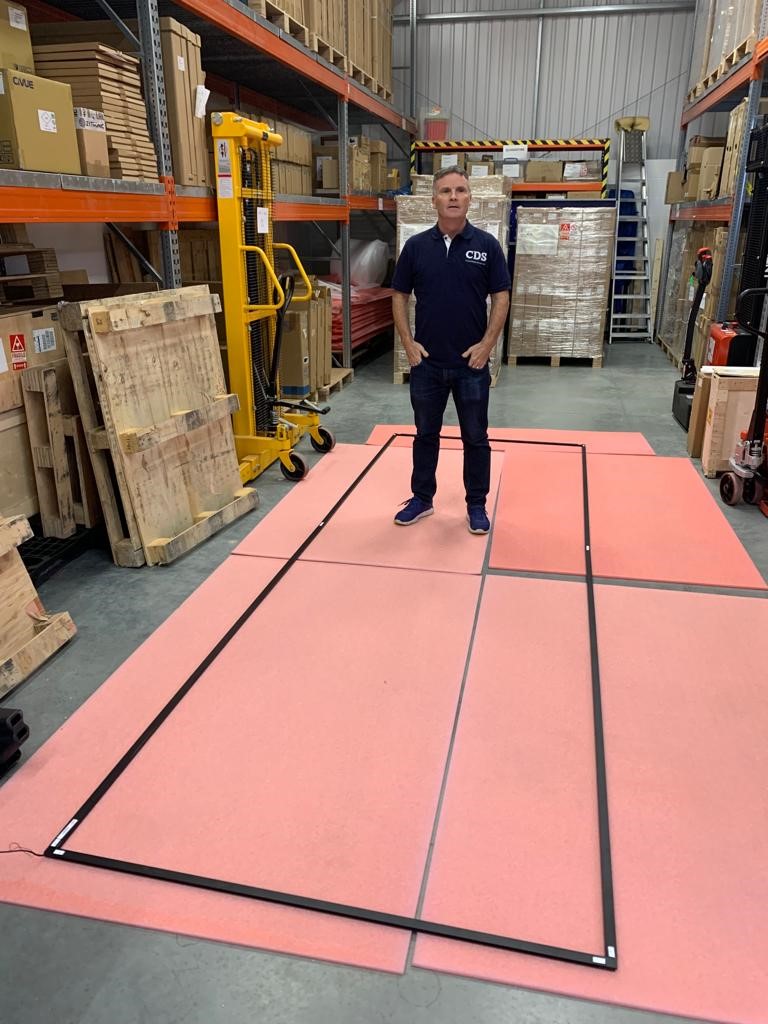 Specification
 IR Infrared Touch screens
Available sizes
10.4″~103(Custom sizes available upon request)
Touch Input Method
Pen, Finger, Gloved hand or any other pointer
Minimum Touch Object
5~7mm(depends on each model and size)
Touch Response time
4.5 ~ 15ms(depends on each model and size)
Touch Durability
Unlimited
Resolution
16384 X 16384(based on controller resolution)
 

Mechanical

Housing
Aluminum, Black
Glass
Option(Custom versions available upon request)
 

Electrical

Operating Voltage
DC4.6V ~ 5.25V
Power consumption
USB : < 2W, Adapter : < 3.5W
 

Environmental

Temperature
Operating : -10℃ ~ +60℃
Storage : -40℃ ~ +85℃(8hr still)
Humidity
Operating : 10% ~ 90% RH(Non-condensing)
Storage : 10% ~ 95% RH(Non-condensing)
Interface
USB2.0 Full speed, HID Compliant Plug & Play
You may also be interested in;
Industrial Touch Screen Monitors
CDS offers LCD Panel Kits and Touch Solutions from stock which include Display panels with interface card and Control OSD and Cable-Set, including Embedded Touch Displays and Touch Screen Components. The CDS kit solutions include a display and the driving electronics such as AD board and backlight drivers all in one package optimised for the panel of your choice. Many of the CDS displays are configured with a controller card, and internal cable sets with each of these combinations set up as an LCD display kit which ensures a single part number can be ordered at any time and our customers are guaranteed consistency of supply. 
But some of our customers require TFT display kits that are slightly different to a standard kit, with for example a different firmware.  For these unique part numbers are created for each customer's TFT display kit solution, again ensuring that traceability and consistency is guaranteed within each and every one of our TFT display kits. This could also include the different ways the internal components are handled, e.g. a medical or military company may require 100% incoming testing rather than batch testing and a unique part will identify this requirement and ISO 9001 procedures ensure the process and reliability. Applications include touch screen kiosk , touch window, industrial touch screen, industrial touchscreen monitor, touch screen tv. 
Whatever your display kit solution we can deliver this for you at a very cost effective price. Just contact our technical sales team to discuss your requirements and they will create an optimised solution for you. Even if you are having issues with your current supplier we can often offer lower cost Form Fit and Function solutions to give you that improved performance and solution you require.