Ruggedised and Military Displays

Ruggedized Military Displays and military monitors, and touchscreen – Military devices, equipment, and its global applications whether it be in the air or on land pose huge challenges to the integration of displays, monitors, and touchscreens. They must withstand extreme conditions, operate extremely reliably, and correspond to many EMC directives as well as meet military standards and guidelines.  Modern technology has advanced and now with quick and easy to use touchscreen monitors and related products are essential to the armed forces to perform at its optimum. 
A failure of the screen or the touch due to adverse conditions or damages can be disastrous, particularly during military operations. For this reason, the reliability of such products is mission critical. 
CDS works with companies to create and become a lead innovator of rugged displays to enhance your ruggedised visual communications capability for harsh environments. CDS offers a Video Monitor (AVM), Video Portrait (AVP), Video Flip (AVF), Dual Monitor (ADM) and Control Display (ACD) families. These are military-grade video displays with easy-to-use controls and extremely durable components engineered for long reliable survival in the most demanding of conditions and applications, whether airborne the air or on the ground.
CDS's military LCD Monitor & Touchscreen Solutions are optimized for maximum performance resulting in durability and reliability, utilising ruggedised touch screens and military monitor LCD solutions. 
These combine cutting edge touchscreen technologies including specialized glass and display enhancements, industrial grade components and value-added ruggedized solutions that deliver powerful results in the world's harshest of environments.  Depending on the customer application requirements the monitors will adheres to strict specific military requirements and standards for land, air, and marine applications. This can include pin-point accuracy, crisp bright colours in high ambient light conditions, fast response displays, extended temperatures, ultra-wide viewing angles and sunlight readability whilst withstanding excessive vibration, intense dust storms, water ingress, temperature extremes and much more. With this in mind clearly military grade monitor customisation is often requested.
"Click here to find the CDS range of small format TFT LCDs for military applications"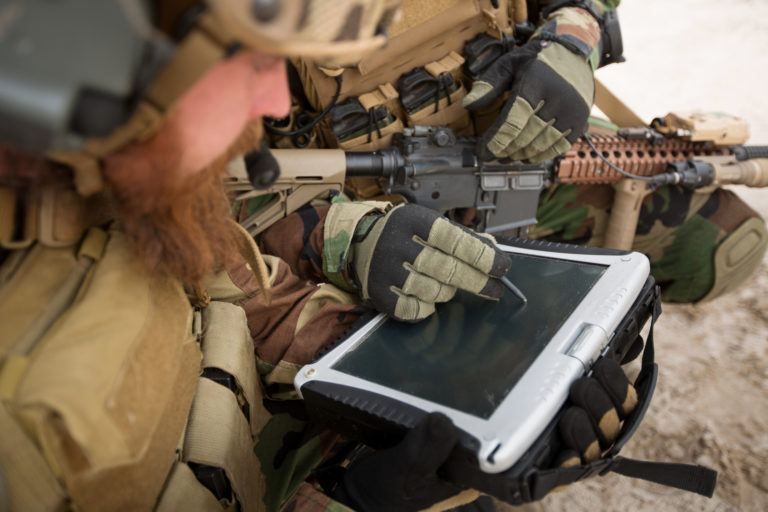 Applications, requirements, and other aspects can include:
Video / data connections for integrating with intelligence, surveillance, and reconnaissance (ISR), targeting sensors, moving map systems, and special mission computers.
Quad-screen, split-screen, side-by-side, and picture-in-picture display options provide mission-critical flexibility.
Sunlight readable LCD or EL displays and wide dimming ranges plus Night Visions Goggles (NVG) compatible backlighting ensure peak awareness of mission critical information.
Human-Machine Interface (HMI) features include multitouch displays, customisable bezel button arrays and custom glass cover glasses, as well as graphical on-screen menus providing excellent flexible integration options to optimize operator activities and actions.
Customisable to fit any military requirement MIL-C connectors.
IP65 / IP67 / IP68 / IK07 / IK08 ruggedised MIL-STD-810G certified and tested.
Military spec vibration and high / low temperature stress tested and certified.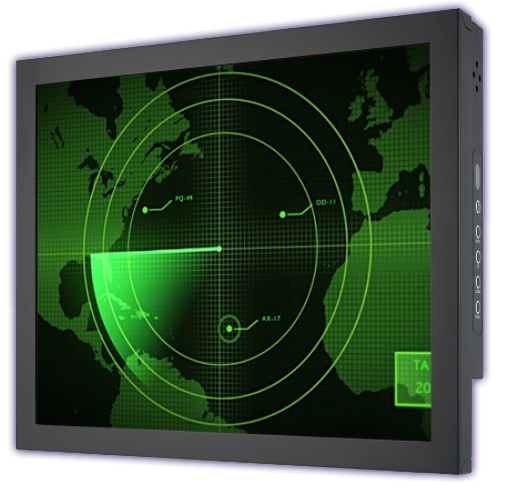 Choosing the right technology for ruggedized military Displays
For the military or aerospace engineer, the process of choosing the right touch technology becomes even more difficult. Not only must the touchscreen perform well in controlled settings, but also in extreme environments with unknown variables ranging from strong vibrations, changes in voltage, water, sunlight, dust, oils, and extreme temperatures. With touchscreens finding their way into MRAP vehicles, handheld navigation units, and countless other military devices and military specialized equipment, it is absolutely critical that these rugged displays perform 100% of the time.
So how do all branches of the military and the manufacturers of military grade vehicles and equipment choose the right touch technology? Just like any other project, it is important to first carefully evaluate the needs of your project and the environment that the touchscreen display needs to operate in. Once your key requirements have been identified, it becomes much easier to weigh the advantages and disadvantages of each technology to find the touchscreen that is right for your military application. 
Excessive vibration and high temperatures are just a few of the extreme environmental conditions touch screens and monitors used in the military and aerospace industry have to contend with. A truly ruggedized and durable product cannot be avoided in critical systems and the applications that need them. As well as being sunlight readable, low reflections are critical as is a robust seal and ingress protection to protect against dust, dirt, debris, and liquids which is what the CDS rugged touchscreen monitor solutions offer which drive increased deployment in demanding mission critical military and aerospace applications. 
The CDS technologies simply offer ruggedised touch screen solutions that meet the extreme operational and environmental requirements of military and aerospace applications, enabling compliance to Mil-Spec certification requirements in embedded applications. 
CDS' custom OEM touch screen monitor design and manufacturing service is popular in military applications because it offers a reliable pressure activated touch that can be operated using thick gloves. They can also be customized and add excellent electromagnetic compatibility (EMC) characteristics depending on the customer's system requirements,. Ruggedized enclosures for extreme environments are often a must as are a range of filters and optical enhancements.
"Click here for the CDS range of Industrial monitors suitable for military applications"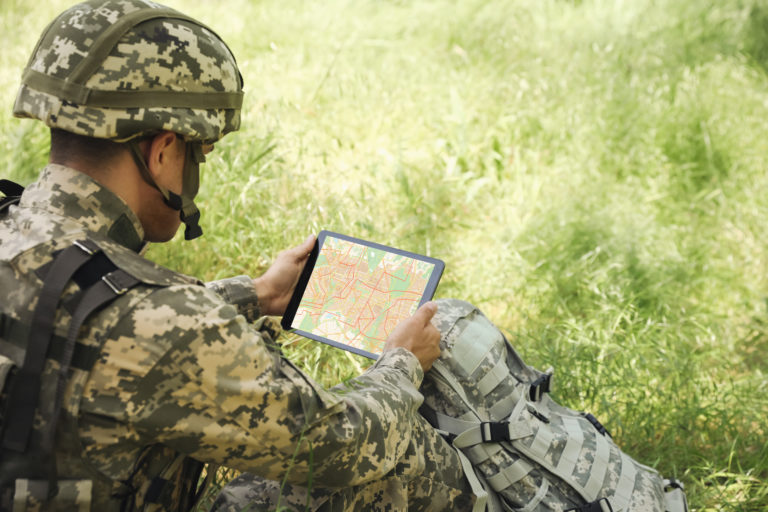 factors to consider to Ruggedised and Military Displays
Use of Touch with heavy gloves.
Importance of wide operating temperature range, voltage, and power consumption. 
Requirements of military EMI / RFI emissions requirements and other Military Standards. Low EMC emissions can result in electronically undetectable equipment.
Performance in environments a ground troop encounters (dirt, water, vibration, sunlight etc).
Suitability for the specific branch of the Military (Navy, Army, Air force, Coast Guard, Marines, Space Force etc.) where it will be utilised.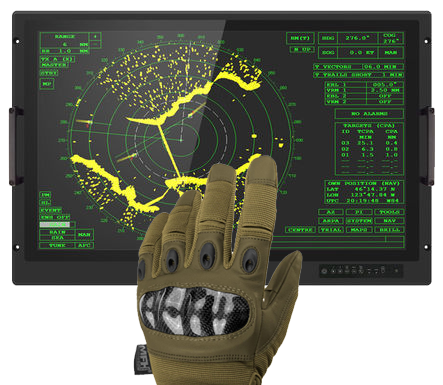 Touch screens are used during the deployment coordination as well as by the soldiers themselves in the field. Thus, the operational efficiency and ruggedness of these touch screens can be vital for survival in a combat mission.
One of the key requirements military grade touch monitors is low electromagnetic radiation. Military touch screen monitor solutions must withstand electromagnetic radiation without any interference. This will help ensure proper functioning in the environment of military reconnaissance for example. Touchscreen monitors are often applied in military communications technology, it is critical that as little electromagnetic radiation as possible can be emitted and accordingly absorbed to ensure safe communication and exclude localization via electromagnetic radiation / radar detection.
The U.S. Military Standard (MIL-STD) 810G tests are designed specifically to gauge the performance levels of rugged tablets, display touchscreen monitors, as well as other mobile computers, in many environments.  This is now a global standard, not only for military, but commercial deployments also. MIL-STD-810G includes 29 standards with extensive test specifications including drop / shock tests, as well as rain, vibration, altitude / pressure, sand and dust resistance, humidity, high / low temperature, and temperature shock.
CDS has a wide array of Ruggedized and Military Displays suitable for the military marketplace from design to development. Our monitors are built entirely with industrial grade components, including specialist aluminium and metal to enhance ruggedness and more to guarantee optimum performance and reliability in the harshest of conditions. Displays with impressive viewing ability and dimming options our series has also been designed to comply with military standards for shock, vibration, and EMC. We understand that military applications have a long design in process and are happy to use our expertise and guidance to help you find the right solution. Let us know your guidelines and requirements and we can help you today!
We can even customise our solutions to ensure every aspect of your requirement has been covered, and our products also have long product cycles to ensure long term availability and peace of mind going forward. Products include optical bonding, EL displays, open frame monitors (customised to your requirements), stretched displays, square displays, industrial Panel PCs, exceptionally reliable interface boards, sunlight readable displays, boxed PCs, touchscreens and more.
"Click here for an overview of the custom display options suitable for military displays"
                                                                                          "CDS has Rugged Displays for Demanding Environments"
Ruggedized and military Displays and military monitors
CDS have a wide array of ruggedised and Military Displays designed and developed for the military marketplace.
Our touchscreens and monitors are built entirely with industrial grade components, to guarantee optimum performance and reliability in the harshest of conditions.
We understand that military applications have a long design in process and are happy to use our expertise and guidance to help you find the right solution.
We can even customise our solutions to ensure every aspect of your requirement has been covered, and our products also have long product cycles to ensure long term availability and peace of mind going forward.
Extreme conditions need extreme displays!
Ideal for pressures including cold, heat, wind, dust, vibration, sunlight and even G-Forces.
For any industry including marine, medical, military etc.
If you would like to discuss your requirement or need any additional information then please do not hesitate to contact our sales team.