Shelf Edge 10inch POS Digital Signage Displays
shelf edge digital signage – Innovative 10″ POS Android Advertising Displays, available in standalone, networked and touch versions.
Versatile all-in-one screens ready to make a lasting impression with your customers and with Power-over-Ethernet (PoE); you can use a single cable for both power supply and your network connection.
Deliver up-close messaging to your customers like never before!
shelf edge digital signage – These screens may be small but they are perfectly sized to generate maximum impact on your customers as shelf edge, POP and POS displays.
With options available there is a POS Digital Signage Display ready to suit your needs in the retail, corporate or hospitality sectors. These reliable and robust POS displays are built to operate 24/7, have a 3-year warranty and lifetime technical support.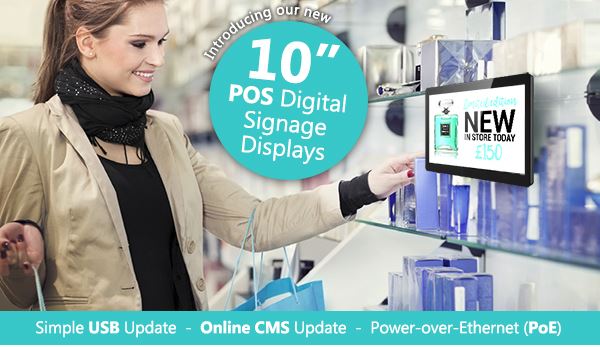 Key Features;
Commercial Use ‐ Suitable for 24/7 usage by utilising commercial grade panel and components with a lifespan of 50,000 hours.
PoE ‐ Power your screen via Ethernet port or with the main power cable provided.
________________________________________
Plug and Play Version
As an All-in-One commercial grade HD advertising display this screen is ready to offer your customers the best brand experience possible. Easily updated via a USB with Plug and Play and with a Power-over-Ethernet port the screen is simple to install without the need for external devices.
Plug and Play ‐ Easily update the screen with images and videos via USB.
Scheduling Software ‐ Choose what content is displayed and when.
Scrolling Text ‐ Compliment your content with a scrolling text message bar.
________________________________________
Network Version
Update your screens from anywhere in the world when you upgrade them to a Network Advertising Display. Synchronise multiple screens and create custom layouts with multiple media zones such as videos, images, scrolling RSS feeds, websites and the time and date via the online CMS. From the cloud you can also control users of the screen and advanced scheduling features that allow you to display what you like, when you like.
Update from anywhere ‐ Remotely update your screen via the online CMS.
Multiple Media Zones ‐ Create templates that allow for zones for images, videos, scrolling text, weather widgets, date & time, webpages, PDF's and Office Documents.
Synchronise Screens ‐ Synchronise your content across multiple screens on the same network.
Integrated Wi-Fi and LAN connectivity ‐ No need for any external hardware.
________________________________________
Touch Screen Upgrade
shelf edge digital signage – shelf edge digital signage  Ideal for use in commercial applications these touch screens bring in a whole new level of audience engagement while being a tablet designed for the rigors of retail. With no external buttons or ports that you would usually find on a domestic tablet, the screen is perfect for commercial use and can be used continuously 24/7. No need for an external PC; use the screen's internal Android media player which can support up to 10 touch points.
The new 10″ POS Android Advertising Displays are in stock now and ready for immediate dispatch. Get in touch today to take advantage of these incredible new displays.
For more information please email info@crystal-display.com or call our main office on +44 (0) 1634 327 420