PCAP Touch screen Overlays
Wide Range of PCAP Touch Overlays for Industrial, Gaming, and Commercial Use (Custom Options Available)
PCAP touch screen Overlays and the CDS Projected Capacitive touch screen technology works off of an electrostatic field that is created by layers of conductive materials that are individually etched to form a grid pattern of electrodes. A touch event occurs when a finger or conductive stylus interferes with the electric field projected above the surface. This change in capacitance is detected by the controller which interprets the X and Y coordinates of the event. Multiple fingers can be tracked simultaneously and the controller supports common multi-touch gestures. Whether it be a PCAP film, PCAP glass, PCAP screens, PCAP monitors, PCAP touch panels or kiosk touchscreen PCs, drive thru kiosks, or touch screen kiosks etc. the same touchscreen accuracy will apply with CDS touch screens.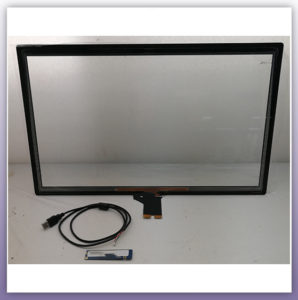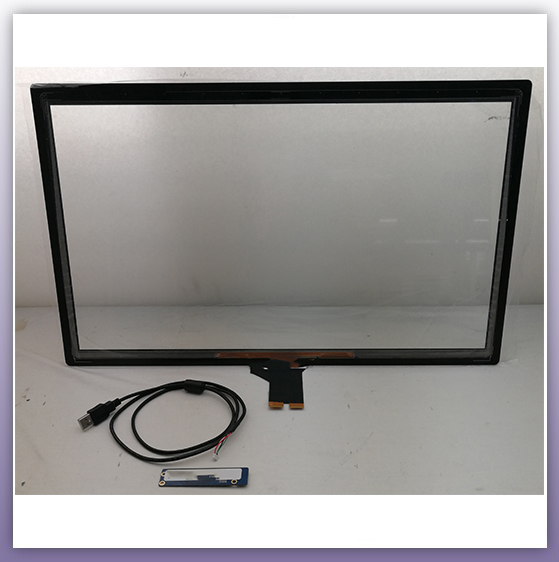 * Up to 65″ available
* Multi touch (10 points, 40 points)
* No moire and invisible wire
* 0.5 mm gap between LCD and touch sensors
* Variety glass option supported
* Mirror glass, AF, etc.
* Custom size and shapes of coverglass
* High Speed response time
* Marker objective sensor readable
CDS provides total solutions for PCAP touch screen Overlays / Projected Capacitive Touchscreens (PCAP) through various touch panel structures including sacrificial glass layers. Due to its highly durable and smooth surface, PCAP touch is suitable for medical and industrial touch screen monitor applications, and an ideal touch solution for the embedded applications such as process control, Gaming monitors, Industrial instrumentation, in-vehicle Sat Nav GPS or and other input devices. Full colour screen printing is available for the top glass including corporate Logo as well as custom PCAP button solutions.
Our Touchscreens interface with most Operating Systems with accurate multi-touch positions and configurable one- and two-finger gesture recognition for the easy customization in application level.
Display technology has witnessed remarkable advancements in recent years, resulting in bright screens with high cd/m² values. These bright screens are especially valuable in outdoor settings, where visibility in direct sunlight can be challenging. Industrial touch screens, designed to withstand rugged environments, are equipped with this advanced display technology. Their robustness is essential for various industrial applications, where reliability and resilience are paramount.
Industrial screens, including touch screens, have become indispensable tools in manufacturing, automation, and control systems. The use of cutting-edge display technology in these industrial screens ensures optimal performance in harsh conditions, making them an invaluable component in today's industrial landscape.
PCAP Tail Designs Give you the Optimum Solution
Just as there are different structures and sizes for PCAP touch panels, PCAP touch panel tail designs are different as well. Below are the characteristics of PCAP tails:
The number of ITO traces embedded in touch panels is dependent on panel size with larger panels having more tracks.
The location of the tail is usually on the long side of the touch panel, the shorter the tail the better the touch functionality.
A PCAP touch panel can have two or more tails , including a COF tail.
We use a ZIP connector for the PCAP COF tail to reduce the size and height of the system connector.

Custom PCAP Touch
We can custom design PCAP touch overlays for your display! As you may know, we offer square and stretched LCDs and for many customers, they would like to make these unusual shaped displays even more impressive with the addition of touch interaction.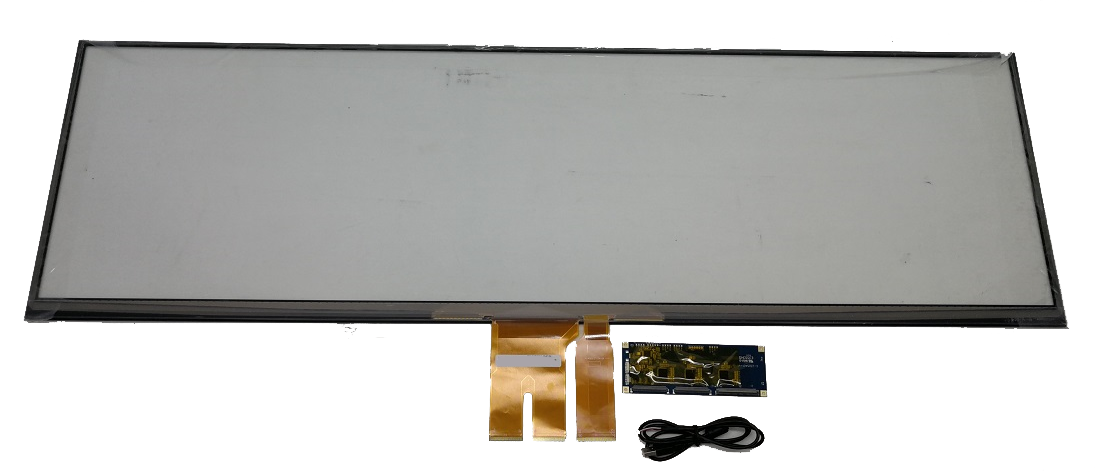 Ruggedised Touchscreens
Our PCAP panels can work through a cover glass of up to 12mm!  This means the number of applications and markets are considerable where you need rugged glass or vandal resistant products.  We fully support customized PCAP touchscreen products to meet your requirements.  An example below is of and industrial 19" touch panel with the 12mm cover glass.  Note also the thickness and therefore high quality of the touch tail to help ruggedization and reliability for you!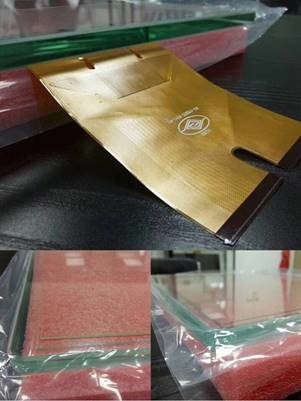 Our capacitive touch screens have a wide range of applications.
For example; touch monitors, touch tables, KIOSK, ATM, industrial PCs, ticket vending machines (TVMs), medical equipment, industrial tablets and more.
SPECIFICATION of Our PCT 
PCAP touch screen Overlays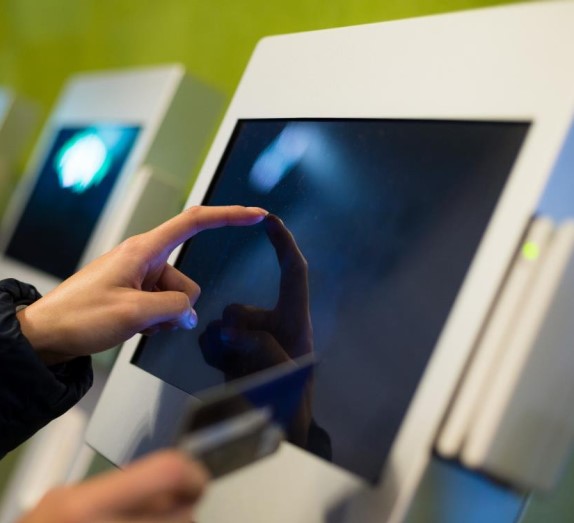 Structure : Glass+Glass
IC controller : EETI ( best and most reliable industrial solution )
Cover Glass Thickness (mm): 0.7 mm – 6 mm Tempered Glass as standard (up to 12mm)
Interface : USB, I2C, RS232.
Touch Points: 1-40 Touch Points.
OS : Windows 7 / Windows 8 / Windows XP / Android / Linux / Mac
Why choose CDS's Project Capacitive Touch Screen?
Perfect Work in any environment, especially outdoors
High reliability and accuracy
Perfect touch response and support 10 multi-touch
High transparency and support 6mm Tempered Cover Glass as standard
Factory Price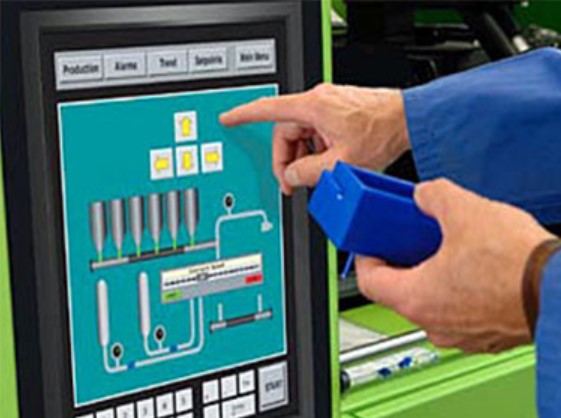 Optional: 
Screen Printing and Custom LOGO and all design
Anti-Reflection (AR Coating)
Anti-Glare (AG Coating)
Vandal-resistant / Work with water on surface (see video)  / Touch with gloves on  / Work with Ultra-thick Cover Lens
Alternatives and replacements for many manufacturers offering and a clarity and touch range plus MicroTouch Single-Touch SCT, MicroTouch Multi-Touch PCAP System, Projective Glass (SCT / PCAP Options), and ThruTouch.
CDS, as a touchscreen distributor, has a wide range of PCAP touchscreens covers many options including:
Touch screen display panels, customs touchscreens, touch screen Display technology, industrial touch screen, touch screen controllers, Gaming touch monitors, touch displays, touchscreen design, PCAP screens, industrial touch monitor, HMI touch screen panel, HMI panels, abontouch, AMT Touch screen, Zytronic touch, zytronic Zybrid, 42 touch screen, Casino touch monitors, multitouch monitor, touch table kaufen, interactive displays, multi touch screen monitor, multi point touch screen, touchscreen Aufsatz, vertical touchscreen monitors, in wall touchscreen monitor, multi touch screen, multi touch overlay, multitouch table,  EETI, Citron, 8 wire resistive touch screen, industrial touch screen PC, rugged solutions, large Display, panel mount touchscreen PC, large format touch screen,industrial touch panels, touchscreen distributor, 42 inch touchscreen, touch screen monitor UK, touch screen frame, add touch screens to monitors,  and abon touch. Capacitive touch screen, capacitive touchscreen,industrial screen.
Call us on +44 (0)1634 791 600