ClearVue Transparent Showcases
Plug & Play Transparent Solutions
CDS Clearvue Transparent Showcases (Transparent LCD Display Cases with touchscreen options utilising transparent LCD screens) help you demonstrate your products in a dynamic and innovative way that will amaze your visitors and create that WOW factor as soon as they enter your store or business!  Interactive Transparent LCD showcases also available in all sizes.
CDS as you can see offers an entry level up to high performance rugged range of panel Computer solutions. This stylish range offer integrators an alternative designs and performances whether that be rugged industrial or sleek sealed operator interfaces.  The CDS Clearvue Transparent showcases, Hypeboxes and clear OLED display range offers affordable and reliable quality Panel PCs.  These are used in Human Machine Interfaces (HMI), home automation, Building control, factory automation, touchscreen table, process control, SCADA and CAN BUS.
Our new generation of Panel PCs are very impressive utilising powerful technology as well as attractive designs. Users of the CDS products can reliably utilise operating and monitoring processes in your systems to give the impression of an invisible display.
CLICK HERE FOR MORE INFORMATION ON OUR CUSTOMISATION CAPABILITIES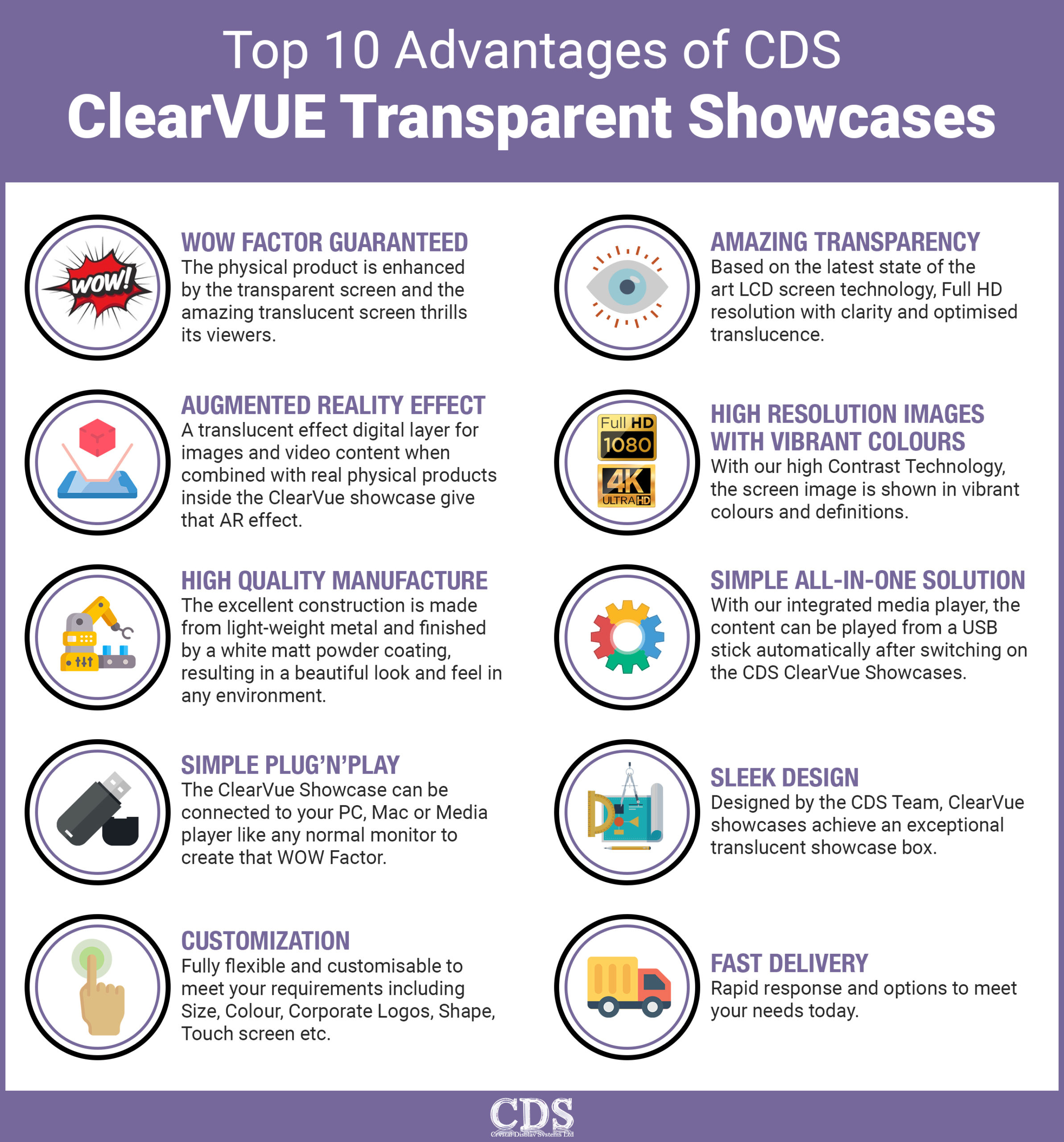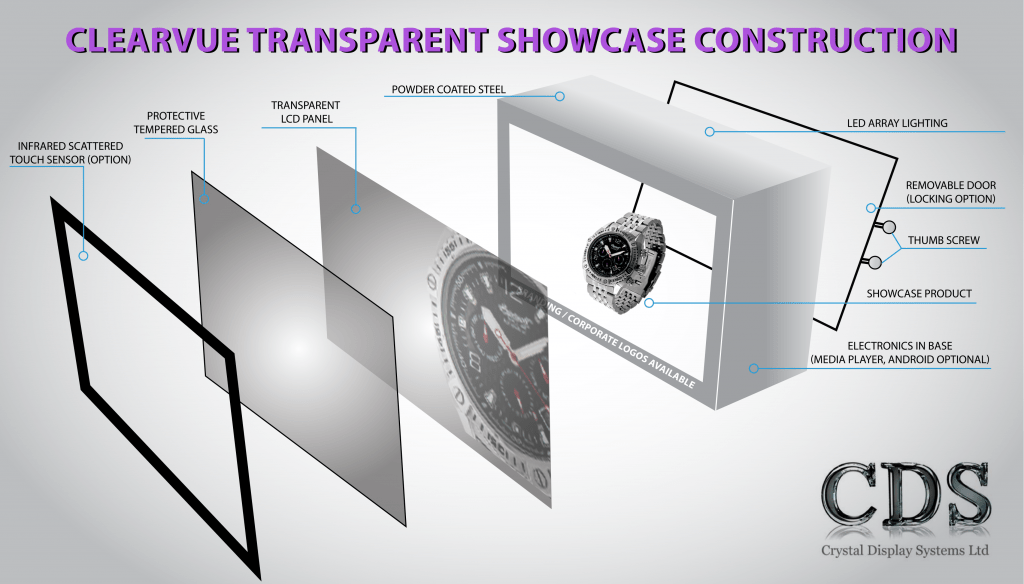 Advantage Of 
CDS Clearvue Transparent showcases and Hypeboxes
– Full HD and 4K UHD Displays available including up to 98″ Transparent displays
– Solid black pixels on a transparent background offer excellent reveal opportunities
– HypeBox types can be customized upon request (branded, custom colours etc) using different transparent computer screens or transparent displays
– Available with or without touchscreen
– 1080p video playback via the Transparent LCD screens and transparent computer monitors
– USB, HDMI or Android integrated including translucent screens
– Supports MP4, AVI, MPG, MP2, MP3, AAC and WMA formats
– Industrial Grade Transparent screens for optimum performance and reliability
– Best translucent showcases and Hypeboxes including 85 touchscreen monitors
CDS Clearvue Transparent showcases and Hypeboxes are currently available in the sizes shown in the table below.  These are finished products, ready to use out of the box and perfect for counter top advertising, and can include interactive touchscreens.
Typical applications include Retail, Museums, Reception Areas, Exhibitions, Gymnasiums,  Bars / Restaurants and more.
| Part Number | Description | LCD Size (Diagonal) | Resolution | Interface |
| --- | --- | --- | --- | --- |
| CV121LV1 | 12″ Lite ClearVue, Landscape as standard | 12.1″ | 800 x 600 | HDMI |
| CV150LV1 | 15″ Lite ClearVue, Landscape as standard | 15″ | 1024 x 768 | HDMI |
| CV190LV1 | 19″ Lite ClearVue, Landscape as standard | 19″ | 1280 x 1024 | HDMI |
| CV215LV1 | 21.5″ Lite ClearVue, Landscape as standard | 21.5″ | 1920 x 1080 | HDMI |
| CV230LV1 | 23″ Lite ClearVue, Landscape as standard | 23″ | 1920 x 1080 | HDMI |
| CV320LV1 | 32″ Lite ClearVue, Landscape as standard | 32″ | 1920 x 1080 | HDMI |
| CV430LV1 | 43″ Lite ClearVue, Landscape as standard | 43″ | 1920 x 1080 | HDMI |
Dimensions are subject to change so please request the latest drawing.
Depth of our translucent showcases can be custom fitted to your requirements.
The transparency of the display is controlled completely by the colour of the content. White is transparent (translucent) but black blocks the light completely, allowing you to make the products appear and disappear before your eyes! The famous REVEAL creates that WOW FACTOR!
We also have the ability to create custom transparent showcases, examples of which can be seen below in our case study examples.
We can make the CDS Clearvue Transparent showcases any size providing we have an existing Transparent LCD panel. Plus the panels can be portrait / landscape plus produced in custom colours with your brand / logo etc.
Some of the many features include:
High quality LED Lighting
Strong rugged metal housing
Low power/energy efficiency
Adjustable volume
Single power supply with single push button control
Highest quality transparent screens