Optimum Performance & Reliability
Industrial Panel PC solutions featuring a high quality and reliable touch panel with excellent display capabilities give high performance into the smallest package. Our all inclusive industrial panel PC range is designed to cover all requirements from compact PCs to high performance, PoE panel PCs, rugged IP65 & IP66 models meeting multiple industrial specifications. Touchscreen options include resistive, capacitive, SAW and Infra-Red as well as tempered glass versions. All have long lifetime supply and support roadmaps ideal for industrial and outdoor applications for example ticket vending machines (TVMs) and other custom projects 
Need a customised solution? CDS can build all industrial panel PC solutions and range to your exact requirements including LCD screens, processor, memory, storage and operating system options. All our PCAP panel mount and open frame industrial panel PCs in the table below have 4GB RAM + 64GB SSD as standard. All have USB / HDMI / VGA interfaces and are CE / FCC certified. CDS also has semi-industrial Panel PCs for more cost effective solutions with no Minimum Order Quantity. CDS can engineer the right visual solution befitting the application and the environment.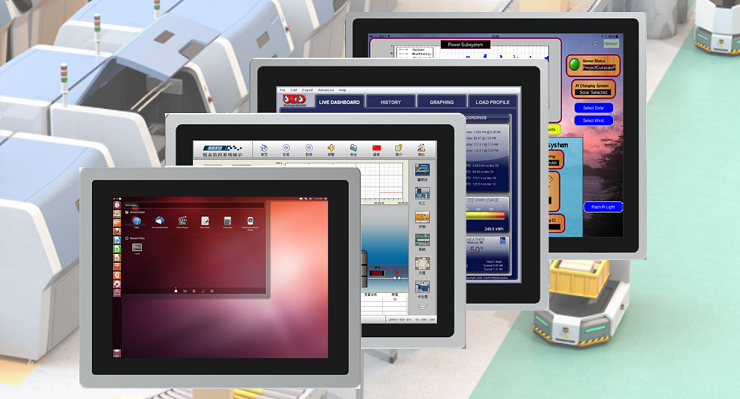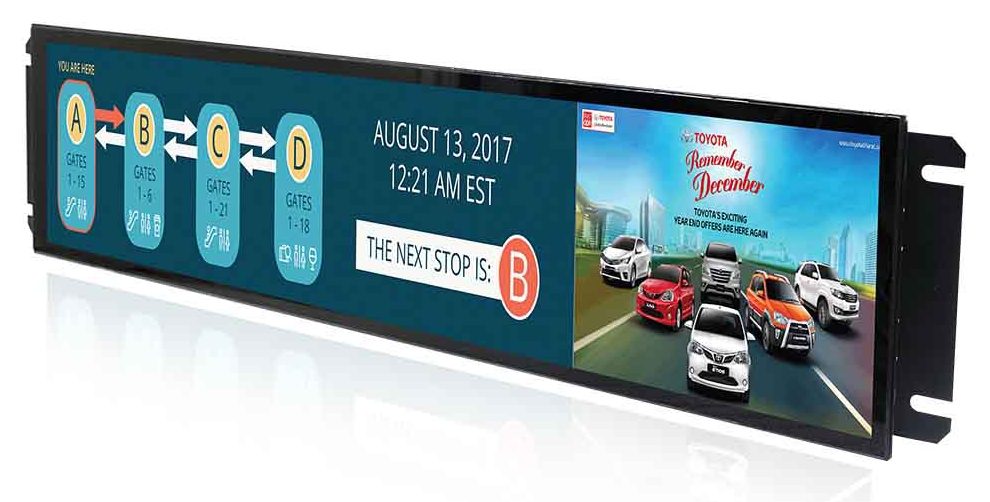 What is an Industrial Panel PC?
An industrial panel PC (Personal Computer) is a specialized type of computer designed for use in industrial environments. It typically consists of a ruggedized, all-in-one computer system integrated into a flat-panel display. These devices are used in a wide range of industrial applications where traditional desktop computers would be unsuitable due to harsh conditions, such as dust, moisture, temperature extremes, and vibration.
Here are some key characteristics and features of industrial panel PCs:
Rugged Design: Industrial panel PCs are built to withstand harsh conditions. They are often constructed with durable materials and designed to resist damage from dust, water, chemicals, and physical impacts.

Wide Temperature Range: They can operate reliably across a wide temperature range, making them suitable for environments with extreme heat or cold.

Touchscreen Interface: Most industrial panel PCs have touchscreen displays, which allow users to interact with the computer without the need for external input devices like a keyboard or mouse.

Mounting Options: They are designed for easy integration into industrial machinery or control systems. They can be wall-mounted, panel-mounted, or rack-mounted, depending on the specific application.

Customization: Industrial panel PCs are often customizable to meet the unique requirements of different industries. This includes options for screen size, processing power, connectivity, and more.

Ports and Connectivity: They typically include a variety of ports and connectivity options, such as USB, Ethernet, serial ports, and expansion slots, to connect to other industrial equipment and networks.

Fanless Cooling: Many industrial panel PCs use passive cooling techniques, such as heat sinks and heat pipes, rather than fans. This helps reduce the risk of dust and debris entering the system and minimizes maintenance requirements.

Operating System: They can run various operating systems, including Windows, Linux, or specialized real-time operating systems (RTOS), depending on the application's needs.
Industrial panel PCs are commonly used in manufacturing, automation, process control, robotics, and other industrial settings where reliable and rugged computing solutions are required to monitor and control machinery, collect and analyze data, and facilitate human-machine interaction. They help improve efficiency, reduce downtime, and ensure the smooth operation of industrial processes.
| Description | Product Name | CDS 10.4″ – 55″ Fanless Embedded Touch Panel PC product overview | | | |
| --- | --- | --- | --- | --- | --- |
| Item | Model Numbers | Apply to our technical sales team for full part numbers and data sheets | TPC310/TPC410 | TPC310/TPC410 | TPC310/TPC410 |
| Display | Screen size(inch) | 10.4″ – 55″ TFT-LCD | | | |
| | Aspect Ratio | 10.4″ – 19″ = 4:3 (H:V) / 21.5″ – 55″ = 16:9?H:V) | | | |
| | LED Color | 262K + | | | |
| | Luminance (cd/m2) | 250 / 300 / 430 / 500 / 1000cd + | | | |
| | Contrast Ratio | 1000:1 | | | |
| | Viewing Angle (H-V) | 89/89/89/89 | | | |
| | Backlight and Lifetime (hrs) | LED / 30,000 hours | | | |
| Touch Panel | Touch options | 5-wire resistive touch Or Projected Capacitive (PCAP) 10-Point Multitouch | | | |
| | Touch Controller | USB Interface | | | |
| | Chipset | Intel Bay trail | Intel Skylake/Kabylake | Intel Skylake/Kabylake | Intel Skylake/Kabylake |
| | RAM/Memory | Standard: 4GB 1*DDR3L SODimm (MAX 8GB) | Standard: 4GB (2*DDR3 SODIMM MAX.16G) | | |
| | Storage | Standard: Industrial 64GB SSD (Could be upgradable) | | | |
| | Ethernet/LAN | 1XLAN or 2x LAN 1000Mbit RJ45 Ports | | | |
| | Audio | 1 X 3.5 mm Line Out 1 X 3.5 mm Mic In | | | |
| | Operating System | Ubuntu; Win7/8/10; Linux; 32Bit/64Bit | | | |
| | Pre-installed OS | Linux Ubuntu / Windows unlicensed | | | |
| | Serial Ports | 2x COM or 6x COM ports Full-PIN (RS232; 5V/12V) (default) | | | |
| | VGA | 1x VGA Connector | | | |
| | HDMI | 1x HDMI Connector | | | |
| | Audio | MIC-In, EAR-Out | | | |
| | Power | 100-240V ACDC active switching adaptor; 1x 12V DC-In | | | |
| Mechanical | Construction | Aluminum cooling cover and metal enclosure | | | |
| | House Dimension (mm) W x H x D | Depends on size of display – ask CDS team for a full data sheet 19″ = 445 x 370 x 64.2mm / 21.5″ = 548 x 345.8 x 64.2mm | | | |
| | | | | | |
| | | | | | |
| | Humidity Range (RH) | 10% – 90%; non-condensing | | | |
| | Mounting | Embedded; VESA 75/100mm | | | |
| | Net weight (kg) | Depending on size of display | | | |
| | Protect | IP65+ Front panel which Withstands water, moisture, dust and vibration | | | |
| | Certification | CE/FCC/RoHS | | | |
| Order Option: | *RAM/Memory | 4GB standard, 8GB ( MAX for J1900), 16GB | | | |
| | *SSD Storage | 64GB SSD standard, 128GB, 256GB, 512GB + | | | |
| | *HDD Storage | 500GB HDD, 1T HDD, 2T HDD + | | | |
| | *Additional WI-Fi | WIFI includes bluetooth (two-in-one) | | | |
| | *Optional COM | 1X RS422 /1X RS485 COM | | | |
Our Most Popular CPU configurations:
Intel Celeron Dual Core 3855U 1.6 GHz
Intel Celeron Dual Core J1800 2.4 GHz
Intel Celeron Quad Core J1900 2.0 GHz
Intel Celeron Quad Core J3455 1.5 GHz
Intel Core i3-6100U Dual Core 2.3GHz
Intel Core i3-7020U Dual Core 2.3 GHz
Intel Core i5-6200U Dual Core 2.3 GHz
Intel Core i7-6500U Dual Core 2.5 GHz
Our range of industrial computers (Panel PCs) offer an industrial touchscreen product that enables interaction without the need for a mouse and keyboard. All of our products have 7H harden anti-vandal glass so the touchscreens continue to work in the harshest environments. They are high quality, look great and carry a 5 year warranty. Our Panel PC range varies in size of display from 7" up to 24", performance option and IP rating depending and level of robustness you need. Our Panel PCs are available with the latest Intel iCore series, low powered Atom, AMD Ryzen Embedded and ARM CPU's and can serve specialist applications for medical, harsh & rugged environments, transportation and building control.
Some of our industrial personal computer Panel PCs come packed with Intel Apollo Lake (Baytrail etc.) processing architecture (or Ivy Bridge) including 10 point multi-touch flush bezel displays. A fanless and wide temperature range allow for seamless application deployment in many industrial applications. We can pre-install software and customise any of our industrial Panel PCs to suit customer's specific requirements including IP65 and IP66 Panel PCs and PC sensor panel.
Ruggedised ARM PPCs are also available from our small format HMI range, as well as sunlight readable, outdoor visible solutions and vandal resistant Industrial Panel PCs. Standard minimum brightness for entry units is 250 cd as standard but higher brightness 2500 nits solutions and options also available. These could include 22 inch monitors with 22 inch screens as well as smaller and larger formats including 42 inch monitors and Panel PCs. Rack mount pc, commercial computer, industrial pc with touch screen
Industrial and embedded product catalogue
Portable, Ruggedized PC Solutions with touchscreen interactivity
Embedded computer solutions for industrial applications
Embedded solutions for OEM's and system integrators
In-house design engineers
Fully configurable at competitive prices
Highly ruggedised in its design
CDS Design and Manufacturing services
All our custom designs are implemented against an ISO 9001-2015 quality management system. Important aspects to the design potential such as – 
Power delivery
Thermal management
Vibration & Shock 
EMC
All our design and manufacturing services include
Burn in test
Temp / Thermal Testing
Environmental Testing
Safety Testing
Software Compatibility Test 
CDS uses industrial memory modules as standard in our ruggedized systems to maximize reliability as well as simplify product testing and approvals. The advantages of industrial RAM when compared to the consumer-grade alternative are clear whether it be longer term availability or extended operating temperatures.  CDS also offers the option of conformal coating against moisture
CDS as you can see offers a entry level to high performance rugged range of panel Computer solutions and this stylish range offer integrators an alternative designs and performances whether that be rugged industrial or sleek sealed operator interfaces.  The CDS range offers affordable and reliable quality Panel PCs that are used in Human Machine Interfaces (HMI), home automation, Building control, factory automation, process control, SCADA and CAN BUS.
The CDS new generation of Panel PCs are very impressive utilising powerful technology as well as attractive designs. Users of the CDS products can reliably utilise operating and monitoring processes in your systems.
Industrial Panel PC applications vary from industrial automation through to power generation and healthcare. An array of available processor formats, touchscreen types, fanless and fanned cooling ensuring minimum heat dissipation make them ideal solutions for demanding industrial environments. Our PoE Panles PC's solutions have the ability to receive both power and data through for minimal cabling and cost.
In the dynamic realm of display technology, industrial screens are essential components, fueling the demand for advanced display solutions. Industrial touch screen monitors, coupled with robust BoxPC computing, offer seamless integration into industrial settings, enhancing user interaction and system control. This synergy ensures a resilient and responsive interface, crucial for manufacturing, automation, and control systems. The convergence of display technology and computing solutions exemplifies a forward-looking approach to meet the demands of modern industrial processes.
If you would like to discuss your requirement or need any additional information then please do not hesitate to contact our sales team.