Dual Sided Window Displays
Dual sided window displays can transform stores, banks, commercial buildings and many other applications with an outside facing display with a brightness of up to 3000m² (700cd and 1500cd also available), plus an inward facing display with an excellent high contrast and brightness of minimum 400cd/m² (700cd also available).  
This ensures that both screens are viewable to their audience no matter what the ambient conditions or usage. Despite being a double-sided display our solution is incredibly slim and lightweight with a depth beginning at an amazing 12mm making them thinner than even most single sided screens. This creates a very sleek looking design.
Why choose the CDS Dual sided window displays?
Widest range of dual sided displays – high contrast displays from 400cd up to 3000cd brightness and sizes from 37" up to 55".
Dual Sided Window Display – Don't lose out on marketing opportunities to passers by with the outward facing sunlight readable Displays but also help build brand loyalty once your customers are inside the building with the inward facing screens to highlight other products / services or reinforce your message / brand.
Window Displays (up to 3000cd/m²) – Visibility is critical when using street facing displays which is why our displays only use industrial grade high reliability high brightness panels so we have a solution for every application.
Simple Plug and Play or network updatable – With a built in HD Android media player you can update them using a USB memory stick i.e. simply load your pictures and videos onto a USB memory stick which will copy the files into its internal flash memory. Once you remove the memory stick the screen will then start playing the pictures and videos in a continuous loop.  Or for a small charge you can update your screens remotely via LAN, WiFi or 4G.  For more information enquire about the CDS Content Management System (CMS).
Blackening resistant screens – In direct sunlight most LCD panels will overheat and blackening on the panel will occur (you may have seen this with other suppliers?)  but because CDS is a Displays specialist our engineers ensure we only utilise unique ultra-high brightness panels with specific high temp Liquid crystal that can withstand surface temperatures up to 110˚C.  Consequently no blackening defect occurs making the CDS solution the number one choice for Digital Signage in retail window displays.
Integrated Ceiling Mount to give complete solution – The Display solution comes with an integrated wire hanging mounting solution so no additional ceiling mount is required.
Super Slim Design – CDS offers the slimmest double sided display available on the market whilst also offering more high end solutions up to an amazing 3000cd!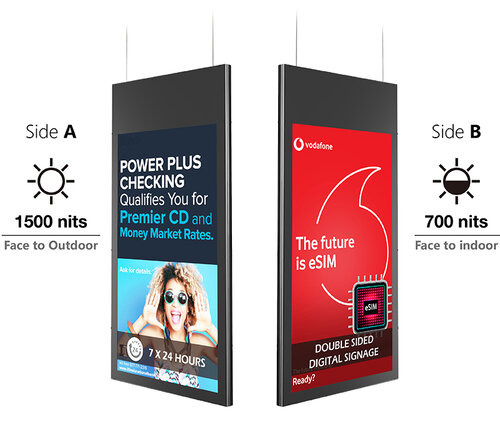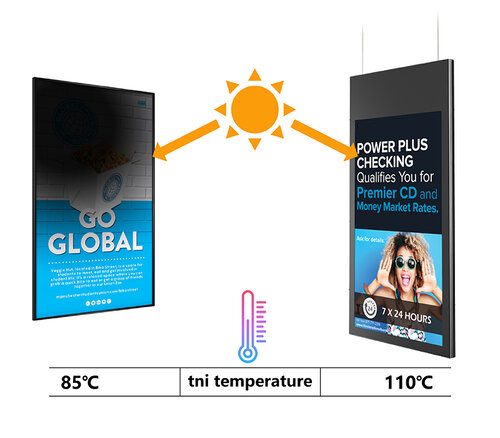 | Part Number | Size | Brightness (cd/m2) | Active Area (mm) | Outer Dimensions (mm) | Notes |
| --- | --- | --- | --- | --- | --- |
| MP-430-DS-STD-700 | 43" | 700 / 700 | 941 x 529 | 1210 x 630 x 22 | |
| MP-490-DS-STD-700 | 49" | 700 / 700 | 1073 x 604 | 1350 x 704 x 22 | |
| MP-550-DS-STD-700 | 55" | 700 / 700 | 1210 x 680 | 1500 x 784 x 22 | |
| MP-430-DS-HB-1500 | 43" | 1500 / 700 | 941 x 529 | 1235 x 630 x 44 | High Bright |
| MP-550-DS-HB-1500 | 55" | 1500 / 700 | 1210 x 680 | 1528 x 784 x 44 | High Bright |
| MP-430-DS-HB-3000 | 43" | 3000 / 700 | 941 x 529 | 1032 x 601 x 80 | Ultra High Bright (HiTni LCD) |
| MP-550-DS-HB-3000 | 55" | 3000 / 700 | 1210 x 680 | 1312 x 758 x 80 | Ultra High Bright (HiTni LCD) |
| MP-370-DS-UT-400 | 37" | 400/400 | 803 x 452 | 1147 x 470 x 12 | Ultra Thin |
Each Side Can Be Driven Independently
Ultra Slim Design -From 12mm Thickness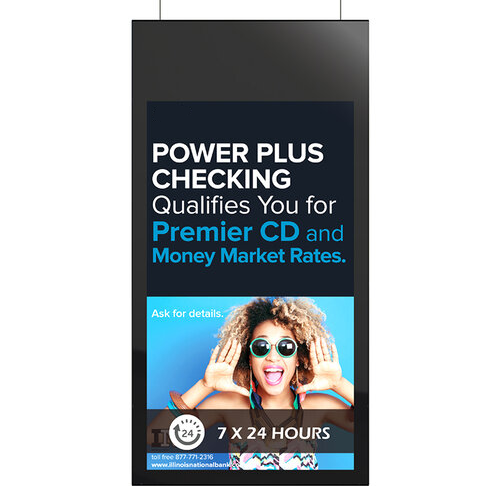 Industrial Design Suitable for 24/7 Usage
If you need any more information or wish to discuss your requirement in more detail, then please get in touch using the details below: