Manufacturer of TFT displays
Powertip, founded in 1991, has established itself as a prominent manufacturer in the field of Liquid Crystal Display (LCD) technology. Over the years, the company has demonstrated consistent profitability and remarkable growth. Today, Powertip is a key player in the industry, employing approximately 3,300 highly skilled professionals in manufacturing and engineering roles across its facilities in Taiwan and China.
The company's manufacturing capabilities are impressive, with a combined floor space of 90,200 square meters. This extensive infrastructure enables Powertip to effectively cater to a wide range of market demands for different types of LCD modules, including:
Colour TFT: Powertip excels in producing high-quality Color Thin-Film Transistor (TFT) LCD modules, known for their vibrant and dynamic visual displays.

Chip-on-Glass (COG): The company specializes in COG technology, where integrated circuits are directly bonded to the glass substrate, ensuring compact and efficient designs.

Chip-on-Film (COF): Powertip's expertise extends to COF technology, enhancing flexibility and connectivity in LCD module design.

Tape-Automated-Bonding (TAB): Powertip is well-equipped for TAB processes, which involve precise bonding of tape circuits to LCD components.

Chip-on-Board (COB): COB technology, another area of Powertip's proficiency, involves directly mounting semiconductor chips on circuit boards.

Surface-Mount Technology (SMT): The company also has capabilities in SMT for surface-mounted components on PCBs.
What truly sets Powertip apart is its diverse and extensive range of standard LCD modules. They offer over 79 different formats, encompassing more than 1,000 configurations. This variety of standard products positions Powertip uniquely in the marketplace. Very few manufacturers, whether focused on monochrome or color LCD modules, can match the diversity and scope of standard offerings that Powertip provides.
Powertip's commitment to innovation, manufacturing excellence, and adaptability has made them a leader in the LCD technology sector. Their wide array of products and dedication to meeting customer needs ensures they can offer comprehensive display solutions to a broad range of industries and applications.
Powertip's focus for their TFT LCD range has been the small to medium sized displays, with displays from 1.44″ QQVGA to 12.1″WXGA.  They have built up a comprehensive range of modules with many different options within the same module format, with each one offering a solution to meet a specific need or application.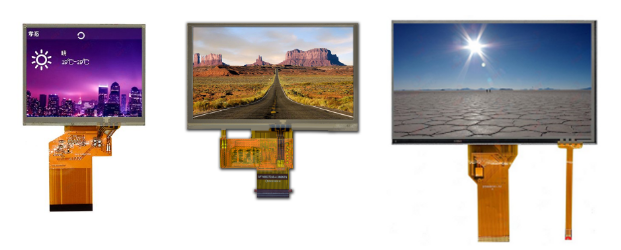 TFT LCD Modules with 4-Wire Resistive Touch
Many applications can benefit from the use of touch, the simplest and highly economical option is our 4-Wire resistive technology. Whilst resistive technology may not seem as glamorous as the latest Capacitive sensors it still offers good functionality for many of today's demanding applications.  Powertip's range of modules featuring resistive touch is again very comprehensive with options from a 2.0″ QQVGA to a 7.0″ WVGA with differing specifications to meet most applications and requirements.

TFT LCD Modules with Projected Capacitive Touch (PCAP)
Projected Capacitive Touch (PCAP or PCT) offers superb performance in today's industrial and commercial applications. Powertip's PCAP touch offers up to 10 simultaneous touches, this allows the user to utilise the pinch n pull and the swipe gestures that today's smartphone and tablet users come to expect from their touch technology. The range of sizes and options available follows Powertip's philosophy that one product does not fit all applications so there are a number of options and specifications available on nearly all sizes . Sizes start at 2.0″QQVGA through to 12.1″WXGA and cover all the popular industry standard footprints.
High Transmissivity of +85%
Up to 10 simultaneous touches
High reliability
Durable and scratch resistant
Customisable glass cover lens
Flush fitting for seamless front bezel designs
Unaffected by glass safe solvents and cleaning chemicals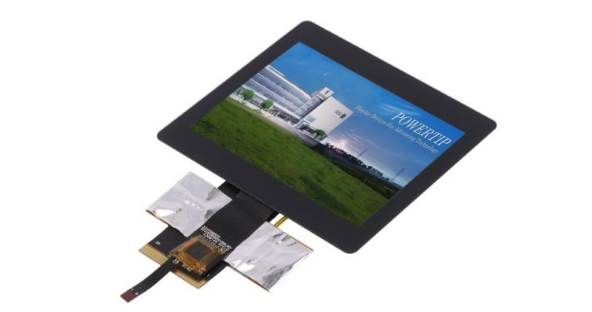 A-Series, 4 in 1 TFT Modules
This range of TFT LCD comprises of 3.5″, 4.3″, 5.0″ and 7.0″ panel sizes all with the same pin assignment and connection method. All the panels include the V-Com circuitry and support a wide analogue input voltage of between 5V ~ 15VDC.  The panels are equipped with a long life LED backlight providing a brightness of 1000cd/m² (non-touch variants) which is suitable for full sunlight viewing. All sizes can be supplied with either a 4-Wire resistive or the latest GG or OGS Projected Capacitive touch sensors, including borderless options.
Multiple panel sizes, 3.5″ (320×240), 4.3″ (480×272), 5.0″ (800×480) & 7.0″ (800×480)
Pin Assignment and connection method common to all sizes.
V-COM circuitry built-in.
5V~15VDC power supply input.
LED backlight connections on the panels FPC
Long life LED backlight, 50khrs
High brightness LED backlights, 1000 cd/m² (non-touch variants)
4-Wire Resistive and GG/OGS Projected Capacitive touch sensor options (including borderless)
A-Series, 4 in 1 TFT Modules
The A-Series 4-in-1 range from Powertip comes with an added advantage – full support from Powertip's M4 evaluation board. This evaluation board is compatible with all panels within the A-Series, making it a valuable tool for developers and engineers. Here are some key details about the M4 evaluation board:
1. ARM Cortex-M4 Processor: The M4 evaluation board is equipped with the powerful ARM Cortex-M4 processor, specifically the STM32F429IGT6 model. This processor provides the necessary computing capabilities for handling the display panels effectively.
2. Common Connections: The M4 evaluation board includes all the common connections required to interface with the A-Series panels. This ensures a seamless integration process without the need for complicated wiring or additional intermediary cables.
3. Direct RGB Display Connector: The TFT LCD from the A-Series connects directly to the RGB display connector on the M4 board. This direct connection simplifies the setup and eliminates the need for additional cables or connectors. Developers can quickly set up and start evaluating the A-Series panels.
4. Time Efficiency: The elimination of intermediary cables and connectors significantly reduces the time it takes for developers to set up and evaluate the A-Series panels. This efficiency is critical for getting products to market faster and streamlining the development process.