HIGH BRIGHTNESS PROFESSIONAL MONITORS
CDS has an amazing range of High brightness professional Monitors, bright screens and high bright displays for sunlight readable applications. Open frame chassis high bright monitors available as well as fully enclosed high bright professional monitors. Plus optically bonded monitors. These are ideal for outdoor uses including advertising, Zoos, Door signage, industrial, military, Aerospace, and Transport. But also public information, food processing, hospitality, real estate, marine, and ATMs.
FEATURES OF OUR HIGH BRIGHT MONITORS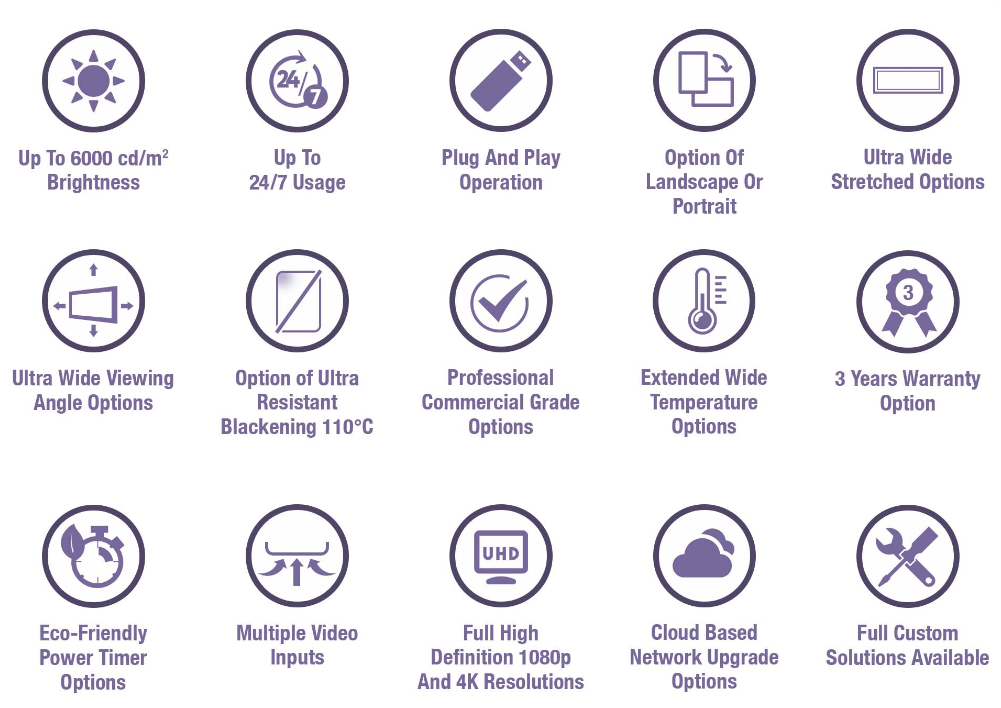 Other High Brightness Professional Monitors & Sunlight Readable Solutions
With our High brightness professional Monitors and bright screens you can opt for a panel for integration or a enclosed chassis monitor or even an open frame monitor for ease in integration.  Our outstanding high brightness LCD displays and monitors are available as a panel and kit for integration or as a chassis enclosed monitor. Varying brightness options including 1,000cd, 1,200cd, 2,000cd and 3,000 nits.  But now we are also offering some panels with an incredible 5,000 nits! Some include the remarkable specialist TNI 110°C liquid crystal today. The CDS range of Ultra High Brightness Panels with 2500 nits designed for outdoor usage also utilise high temperature liquid crystal (HiTni).  These are optimised for outdoor digital signage, point of information and many of the applications highlighted above.
Premium ultra-bright panels, bright screens and monitors deliver professional-grade, crisp image quality and true, deep black hues for vivid expression and unmatched visibility. Even under the brightest lighting conditions in any outdoor and semi-outdoor applications the CDS displays are excellent.  The incredible digital signage and industrial LCD displays are all high brightness (from 1,000 nits), with wide viewing angles. But also with greener design (low power consumption) and long product lifetimes is critical. Please contact our technical sales team to discuss your specific High brightness professional Monitors or high bright project and requirements. We can then get you the optimum solution and exceed your expectations and address any issues you have.
GET IN TOUCH ABOUT oUR HIGH BRIGHTNESS PROFESSIONAL MONITORS