Small Format HDMI Modules
An Introduction to Our Range of Small Format HDMI Displays
Introduction to CDS Small Format HDMI Modules
As a world leading displays specialist we pride ourselves in providing the best displays solutions to our customers including our range of high quality small format HDMI displays to help solve your small display requirements and needs. We have had great feedback from our HDMI modules and we can offer you the best small format display solutions out there. Our product range is constantly being updated with all the latest display technology and innovations. We will only use tried and tested solutions from renowned manufacturers which is why our customers know they can trust our solutions.
Crystal Display Systems industrial monitors integrate the latest LCD and touchscreen technology to facilitate data visualization used for industrial applications. CDS offers versatile i/o devices from sensor modules, add-on daq cards or portable modules to remote i/o and wireless i/o devices and software tools, which not only satisfy data acquisition, measurement, control, and communication needs but also allows cloud integration for wider area data management systems. build-to-order custom display LCDs and customized solutions for your exact display needs. CDS is dedicated to delivering fully customized LCD display solutions for our customers. our strength lies in understanding and meeting our customers' exact requirements coupled with CDS' comprehensive manufacturing capabilities and expertise to deliver the right LCD display solution. Let CDS be your total video solution provider.
Here at CDS we have a great range of Small Format TFT LCD Displays, as part of this range we have modules with HDMI input which can work directly with Windows 7/8/10 and X86 systems.
Our low cost embedded Small Format HDMI display modules are high quality IPS TFT HDMI LCDs.
Our displays are easy to operate and to install with useful HDMI to TFT.
Simple and low-cost HDMI LCDs are all also available with touch interaction, capacitive touch which gives the user and integrator 5 points of touch with a G+G structure.
This is an integrated PCAP touchscreen to create even more ease in design and integration.The HDMI LCD range also includes ultra-wide stretched models with wide extended temperature, ideal for automotive projects. 
There is no need for drivers with our range, simply connect the USB port first to the HDMI LCD module, then connect the HDMI port to the TFT LCD.
High quality and reliable High Resolution Small Format TFT LCDs (LCD TFT)
Integrated resistive and PCAP (Projected Capacitive Touchscreens) options
Short lead-time and quick sample delivery
Wide viewing angles and high resolutions
High brightness options (Hi-brite TFTs)
Extended temperature right up to automotive and military display specifications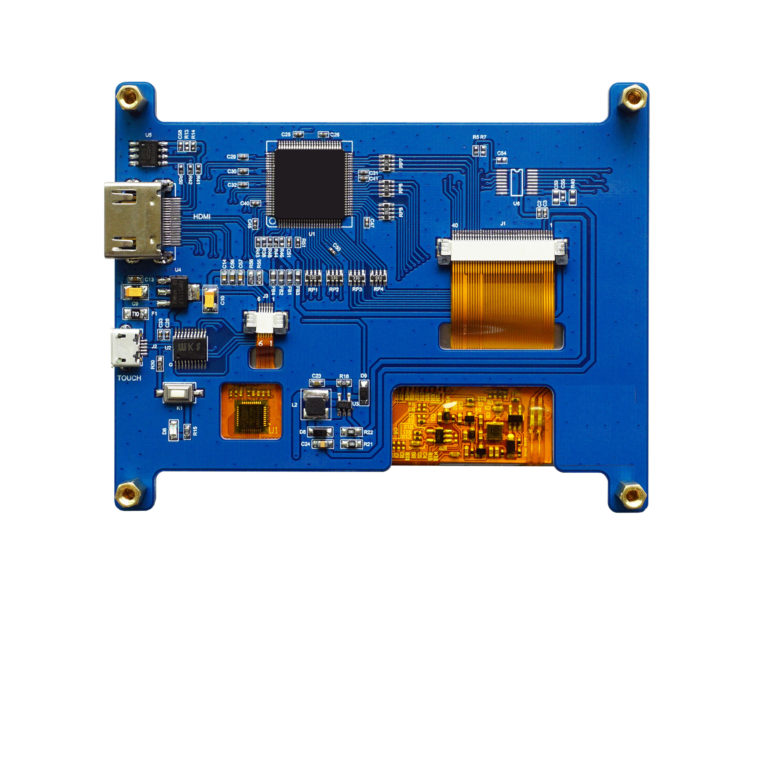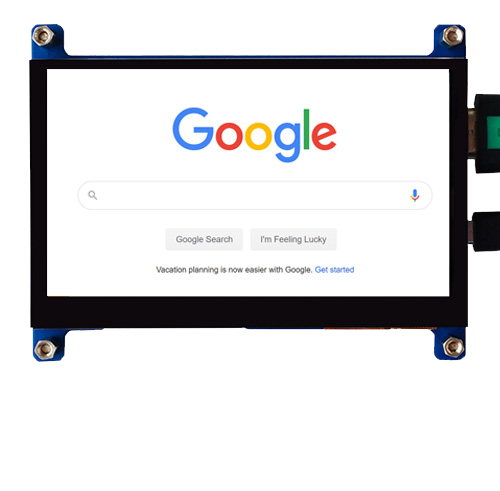 | Part Number | Size | Resolution | Brightness (cd/m2? | Touch |
| --- | --- | --- | --- | --- |
| PNL-043-400-M | 4.3″ HDMI | 800×480 | 400 | Optional |
| PNL-043-350-M/PT | 4.3″ HDMI+CTP | 800×480 | 350 | with CTP |
| PNL-050-350-M/PT | 5" HDMI +CTP | 800×480 | 350 | with CTP |
| PNL-050-500-M | 5″ HDMI IPS | 800×480 | 500 | Optional |
| PNL-068-BAR-350-M/PT | 6.86" Bar Type LCD +CTP | 480×1280 | 400 | with CTP |
| PNL-070-200-M/PT | 7″ HDMI+CTP | 1024×600 | 200 | with CTP |
| PNL-070-600-M/PT | 7" IPS High Brightness HDMI+CTP | 1024×600 | 600 | with CTP |
| PNL-070-250-M/PT | 7″ HDMI+CTP (Bigger cover glass) | 1024×600 | 250 | with CTP |
| PNL-080-600-M/PT | 8″ HDMI+CTP | 1024×768 | 600 | with CTP |
| PNL-101-002-300-M/PT | 10.1″ HDMI + CTP | 1024×600 | 300 | with CTP |
| PNL-101-300-M | 10.1'' HDMI  | 1280×800 | 300 | Optional |
Frequently asked questions
They are LCD TFT display modules with HDMI( high-definition multimedia) interface and USB power input interface. It allows you to display high-quality images and videos from a variety of sources, including computers, media players, and game consoles. Customer could quickly connect the HDMI tft lcd display module into their design board and to connect to their computer with Win 7/8/10 and X86 system, Linux, Android, or connect Raspbian system. It is simple and easy to use, only connect the HDMI TFT display module via HDMI cable and USB cable, plug in and display on the tft lcd quickly. HDMI LCD module is an excellent choice. Its high resolution and color depth make it ideal for a wide range of applications, including gaming, multimedia, industrial control systems, and more. 
What are the benefits of using an HDMI LCD module?
There are several benefits to using an HDMI TFT LCD module, including easy integration with other devices via HDMI port and USB power input, such as PC, Ardunio, STM32, Raspberry, HDMI TFT with high image quality, and flexibility in terms of size and resolution. Additionally, some HDMI TFT modules could offer capacitive touch-screen functionality or other advanced surface features that can enhance the user experience. They are also widely available and relatively affordable, making them a popular choice for professionals application.
Can I use an HDMI TFT LCD module for outdoor applications?
While some HDMI TFT LCD modules may be suitable for outdoor use, it depends on the specific module and its environmental ratings. Factors like brightness, contrast, temperature range, and water resistance can all affect the performance of an LCD module in outdoor environments. If you need an LCD module for outdoor use, it's important to choose one that is specifically designed for that purpose and has appropriate ratings for your intended application.
What kind of touch options do you provide?
We offer the choice of capacitive touch, no touch and resistive touch. The HDMI tft modules have the TN technology and IPS technology (free viewing angle), standard and high brightness solutions. On board PWM control and ROHS compliant. Depending on the type of application and project you require will then determine what kind of touch or non touch solution we can offer, so get in touch now and one of our technical team can provide more information.
Need any additional information? contact us now!
Call us: +44 (0)1634 791 600