Industrial Monitor Design Builder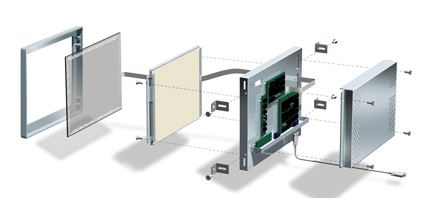 Industrial Monitor Design Builder – CDS has introduced a unique system for customers to allow them easily and with great accuracy to build their own customised bespoke monitors creating the optimum solution for their application. Every engineer, engineering manager, engineering director and product manager has the opportunity to design their own ruggedised custom monitors, and we believe here at CDS we are offering a one stop shop for design builds. CDS creates customised rugged monitors and engineers who have used this service wonder why they have never used it before as it reduces cost and speeds up the design cycle and time to market. 
The CDS service includes, taking that clients idea and having the initial technical discussions that are essential for the bespoke monitor and mechanical design for the unique product and its environment. Our team consists of technical design experience that spans many years in the industrial, retail, commercial and gaming markets. Rest assured we have the skills and capabilities to design the special display you are looking for.  Quality control tests then go underway under our ISO 9001 and ISO 14001 certification. We soak test our displays and ensure the highest quality has been achieved before we send to our customers.
We urge design engineers to start the conversation with us, what new features could you benefit from in a new monitor design for your application? How could implementing all your needs into a brand-new design benefit your final solution and benefit you in the long run?  The highly advanced system can include an integrated industrial PC, electronic surveillance system for monitoring system health and performance, as well as built-in sensors assist the display in ambient light, plus a backlight monitoring and shock, moisture resistance, and temperature measuring solutions. 
This is just some of the components that can be included in a complete, all-in-one design from CDS' bespoke monitor solutions department, whether we receive a comprehensive scope from a customer and our designers, engineers and technicians pull out all the stops to create the bespoke product the customer and end user have been dreaming of, or if it is a blank sheet where we basically design and develop from scratch. The touch screen and industrial controller as well as cover glass can all be designed to the customers' requirements as well as the overall hardware development.
But CDS does not stop there with its Industrial Monitor Design Builder, as we continue our strong partnerships with all our clients with an incredible after sales service which leads to a long term business and personal relationship and partnership. CDS can also hold stock as well as spares and repairs for a local, speedy repairs service or an annual call off system to add real value to our customers logistics chain. For more information or to discuss your project please contact our technical sales support team so we can begin the design and development stages as soon as you are ready.
Click here to see our full range of off the shelf open frame monitors
Click here to see our range of high brightness monitors