Industrial TFT Power Supplies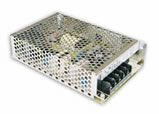 Industrial TFT Power Supplies from CDS  help deliver the complete Display solution to all our customers giving them a high quality and highly reliable solution.
We have thoroughly tested the range of power supplies which we recommend for use with our TFT kits.
These carefully selected industrial power supplies have been evaluated under stringent tests and we are happy to recommend to our customers.
Manufacturers we can supply includes Mean Well and Li Shin power supplies including Mean Well's RSP and LRS series.
To meet more customer requirements and applications and provide customers with a more complete selection of output voltage models, CDS added some 55 Volt output models. The 55 voltage output models from CDS can be utilised in many applications including industrial, telecom, electric charging, PoE, and instrumentation markets.
All CDS 
Industrial TFT Power Supplies
 are fully RoHS, EISA and CEC compliant
| Name | Dimensions (WHF) | Output | Power | Storage Temp | Manufacturer |
| --- | --- | --- | --- | --- | --- |
| LSE9901B1260 | 110x64x31.5 mm | 12VDC/5A | 60W typ. | -40+70°C | Li Shin |
| RS-100-12 | 159x97x38 mm | 12VD/8.5A | 102W typ. | -20..+85°C | Mean Well |
| S-150-24 | 199x110x50 mm | 24VDC/6.5A | 156W typ. | -20..+85°C | Mean Well |
| SP-320-24 | 215x115x50mm | 24VDC/13A | 312W typ. | -40..+85°C | Mean Well |
| USP-350-24 | 235.2×101.5x38mm | 24VDC/14,6A | 300W typ. | -40..+85°C | Mean Well |
| SP-750-24 | 278x127x63.5mm | 24VDC/31,3A | 751.2W typ. | -40..+85°C | Mean Well |
| RSP-1500-24 | 278x127x83.5mm | 24VDC/63A | 1512W typ. | -40..+85°C | Mean Well |
We recognise that Industrial TFT Power Supplies are a critical component within a Display systems architecture and to service this market and give our customers the complete solution CDS can focuses on the right power supply for your specific industrial application!
With a number of major brands we have access to a wide range of AC-DC and DC-DC Industrial TFT Power Supply solutions to meet your project requirements today.
Need the rest of the Display kit? Please check out our Displays and Interface Board Range.