DigiWise emerged as a visionary venture established by a group of committed investors who shared a common goal: the advancement of TFT LCD and Touch Sensors. Our company thrives on the expertise of skilled and experienced engineers in the field of TFT LCD, backlights, and touch technology integration. With a combined team that encompasses engineering, sales, and marketing, our track record spans over a decade, underscoring our commitment to excellence.
What sets DigiWise apart is our specialization in providing a comprehensive range of small to medium-sized TFT LCD displays. These displays are available in standard sizes, ranging from the compact 2.4″ (240 RGB x 320) to the expansive 21.5″ (1920 RGB x 1080), covering all the industry-standard sizes in between. These sizes are not only versatile but also ideally suited for the industrial product market, as their long-term supply remains highly stable.
Our TFT Displays are engineered to meet the most demanding requirements, offering wide viewing angles, wide operating temperature ranges, high contrast, and exceptional brightness for sunlight viewing. We take pride in our high-end development capabilities, which result in tailor-made solutions for our customers. These solutions encompass signal integration, touch panel lamination, optical bonding, and optical film enhancements. With our profound expertise in display design and assembly, DigiWise excels in creating products with extended product lifespans.
At DigiWise, we are driven by a commitment to delivering high-quality, cutting-edge display solutions that cater to the diverse needs of our customers. Our dedication to innovation and excellence ensures that our clients benefit from products that are not only technologically advanced but also designed to endure, providing lasting value. Your success is our priority, and we look forward to being your trusted partner in the world of display technology.

In an environment marked by constant evolution and intense competition, DigiWise stands resolute in its commitment to investing in Research and Development. Our mission is clear: to deliver cutting-edge products that are not only technologically advanced but also accessible at affordable prices.
We understand the importance of staying ahead in a fast-paced market, and we're dedicated to providing our customers with innovative solutions that keep them at the forefront of their industries.
Partner with DigiWise and Crystal Display Systems to enjoy the benefits of a trusted TFT LCD partner. We'll keep you informed and up to date with the latest products and developments, ensuring that you have the tools and knowledge to succeed in your endeavors.
Your success is our success, and we look forward to being your partner on this journey of progress and innovation.
Features
High Brightness (1000~1500cd/m²)
Wide View (O-Film Technology – 170º)
Wide Operating Temp. (-20~70ºC)
4W, 5W & PCT Touch options
Improved 6 or 12 o'clock Grey inversion
Cover Glass optical bonding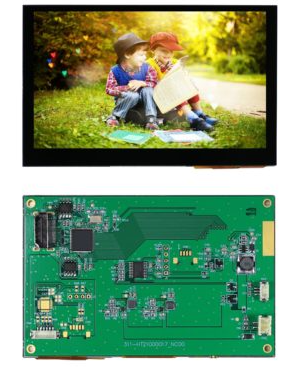 As HDMI continues to gain prominence as the preferred display interface for a wide range of OEM designers and engineers, including those working with popular platforms like Raspberry Pi, Arduino, and various single board PCs, DigiWise has responded with a cutting-edge line of high-performance TFT LCD modules. Our innovative modules are designed to not only enhance your hardware design but also save you valuable time and resources, ultimately reducing your time to market.
By incorporating HDMI-compatible TFT LCD modules from DigiWise, you can streamline your product development, benefit from high-performance displays, and leverage the widespread adoption of HDMI technology. We understand the importance of staying on the cutting edge of technology, and our products are engineered to meet the demands of modern applications and market trends.
DigiWise is here to be your partner in progress, offering solutions that enhance your efficiency and competitiveness in today's rapidly evolving tech landscape.
Our range of displays offers versatility and performance with nine different sizes to cater to various applications. The range includes displays starting at a compact 4.3″ with a resolution of 800×480 WVGA, extending up to a generous 21.5″ with a full HD resolution of 1920×1080. In between, we offer a variety of sizes, including 5.0″ (800×480), 7.0″ (1024×600), 8.0″ (1024×768), 10.1″ (1024×600 & 1280×800), 11.6″ (1920×1080), 13.3″ (1920×1080), and 15.6″ (1920×1080). These diverse sizes ensure that you can find the perfect fit for your specific needs.
All our display models feature IPS glass, providing ultrawide viewing angles of 80°/80°/80°/80° (Left/Right/Up/Down). A notable advantage is that these panels have no factory-set viewing direction, allowing you to mount them in both landscape (default) and portrait orientations without any loss of color or image quality. This flexibility is essential for various applications and setups.
The entire range offers high contrast ratios, typically around 1000:1, enhancing the optical performance of the panels. Paired with long-life, high-brightness LED backlights that typically reach 1000cd/m², our displays excel in applications where full sunlight viewing is essential.
To cater to your specific interaction needs, all models can be equipped with a factory-fitted multi-touch Projected Capacitive Touch sensor. This touch technology provides a user experience akin to the latest smartphones, with flexible communication options through either an I²C or USB interface. Additionally, some models are also available with 4 or 5 wire resistive touch options, allowing you to choose the touch technology that best suits your requirements.
At DigiWise, we understand that diversity in display solutions is essential. We offer a range that meets the demands of various industries and applications, ensuring that you can find the right display for your specific needs, from compact screens to large high-definition displays with versatile touch options.