Industrial Rugged Keyboards

Are CDS Industrial Rugged keyboards the best and most reliable industrial keyboards available?
The CDS Rugged keyboards with Protection up to IP65 makes CDS's wide range of rugged keyboards ideal for many different industrial applications including process control, Gas / Oil platforms, factory automation as well as many outdoor applications and extreme conditions.
In hazardous environments these rugged industrial keyboards are totally protected from the ingress of water, dirt and dust to give you the best and most reliable solution for your application in any harsh environment required.
These keyboards are long lasting and stand up in environments where your typical office grade peripherals will not survive. Our rugged keyboards are sealed to NEMA 4, 4X, 12, IP65 specifications and are ideal for wet, dirty and harsh environments.
CDS industrial hardened keyboards are available in stainless steel and suitable for use in a variety of applications in any hostile environment including workshops, factories, warehouses, industries,  and laboratories.
This range of rugged keyboards are ideal for a variety of applications including HMI, operator interface, shop floor, data acquisition, IoT (Internet of Things), kiosks, medical carts, mobile mount, data entry applications to food, medical and automotive applications and outdoor use to name a few.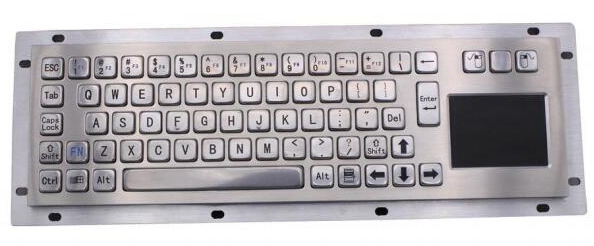 CDS Industrial Rugged keyboards & 
High quality Stainless steel Keyboard (available with touchpad) 
High-quality stainless-steel punch-forming keyboard for multiple applications;
Water-proof, dust-proof, flame-proof, and rust-proof giving the complete solution;
Key character is finished by laser engraving, anti-shedding;
Support standard PC keyboard function;
Certificate: ISO/IEC 9995, GB/T 14081 certifying the highest quality
Optional with PS/2 or USB interface;
Compact Dimension: 300 x 110 (mm)
For more information on our CDS Industrial Rugged keyboards or to discuss your project with our technical team please contact our sales team on info@crystal-display.com or our Main Office on +44 (0) 1634 791 600 where we will be very pleased to help you.