These Open frame industrial Monitors including 'chassis' and panel mount monitors offer great benefits such as;
* 6.5″ to 84″ available with up to 4K resolution.
* Long term stability of mechanical design with VGA, DVI, HDMI, Video interfaces
* Various built in Touchscreen options with RS232 / USB communication optional (for touch)
* Excellent design to optimise air flow / heat dissipation, and minimal footprint with fine finishing with good looking black powder coated chassis (option)
* Standard VESA mounting monitors
* Some larger panels have SMPS (power supply) built in for your ease of design-In.
 CDS's Daylight Readable (sunlight readable) Open Frame Monitors are an excellent solution for manufacturers or integrators, looking for a quick and easy installation of a display into their equipment. Suitable for indoor, outdoor, and rugged environments. These monitors have been designed as daylight readable, by incorporating high brightness backlights, high contrast ratio panels, & optical bonding for optimal viewing experience, with various touchscreen options including PCAP, Infra-Red, and resistive touch technologies.
Possible Customizations:
* Open Frame, Front Bezel, Rackmount, Panel Mount etc
* Touchscreen or Protective Glass
* Integrated HD media player to loop content via USB
* Integrated computer for an all in one, Panel PC type solution
* Custom Inputs, IR sensor and more
* IP Rated water resistant enclosure
* Custom Colours / Branding
* Wide range of Open frame industrial Monitors and touch screen monitors
Example breakdown of a custom monitor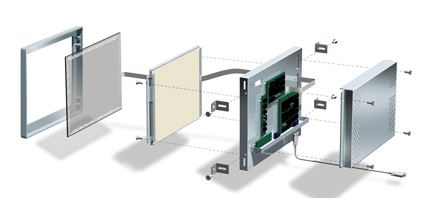 Open frame industrial Monitors and 
Touch Screen Monitors
All CDS monitors are available as interactive touch monitors utilising the latest touch technology of your choice which can include Projected Capacitive (PCAP), resistive, capacitive, SAW (Sound Acoustic Wave) and I.R (Infra-Red). This can be single, dual or multi touch with the possibilities of ultra-wide viewing angle or hibrite as well as ruggedised vandal resistant options. We also offer industrial customised touch monitors to meet your specific requirements, which can be form fit and function copies of major branded monitors to save you money and utilise the latest technologies if required, whether it be for smart queue displays, medical grade touch screen monitor, intrinsically safe tablet price, or weather proof kiosks.
CDS with many years' experience understands the Touchscreen monitor and industrial monitor Business in great depth so we can advise on the suitability of products for your application and we offer full support on all products sold. With a range of screen sizes available and our years of experience and expertise you are sure to find the best solution for your application whether it be one unit or 1000 we are here to help with our High Quality Industrial Displays.  We know we can save you money compared to many of the more expensive branded products, to enable you to win more business.
Custom Designs
CDS as well as its standard off the shelf monitor designs offers a custom design service with low prices and Minimum Order Quantity of only 50 units so you can get the Monitor that meets your requirements exactly.  Also, we can look at equivalent replacements to ELO touchscreen monitors including ELO1717l, ELO 1717l 17 touchscreen monitors, ELO 24 touchscreen monitors, KME rugged monitors, Eizo monitors, etc.
For TFT LCD Panels only please click here  For high brightness monitors click here
Want To Get In Touch about your Open Frame Industrial Monitors?