Electroluminescent Rugged Displays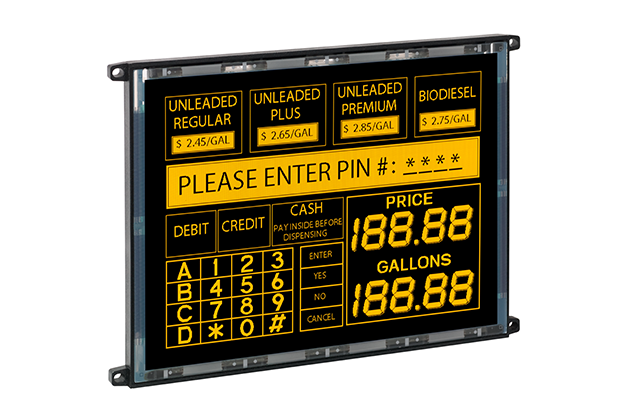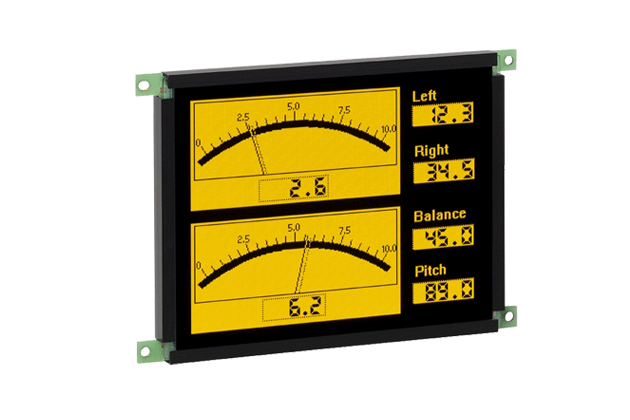 Electroluminescent Rugged Industrial Displays – Electroluminescent Displays from Lumineq are perfect for industrial applications. They are extremely rugged with super wide operating temperatures, designed to cope with vibrations and harsh environments. We also have a range of Transparent EL displays also, perfect for scopes, windshield displays and use in industrial vehicles. EL Displays are also very popular for Military Applications where reliability and high visibility are crucial.
Lumineq® Thin Film Electroluminescent (TFEL) displays are unique and unrivalled for embedded display solutions. The combined performance and visual characteristics of TFEL displays make them superior for image quality, product lifetime and reliability in the most challenging and demanding applications. Lumineq displays tolerate cold, pressure, shock and vibrations better than any other display type. They offer excellent readability, long product life and long-term availability for a wide range of demanding applications – on land, at sea and in the air.
Electroluminescent Rugged Industrial Displays – Over the last 35 years, TFEL technology has proven its excellence in applications including monitor and control instruments in deep-sea vessels to operational systems in orbital spacecraft, together with countless other applications requiring uncompromised reliability and accuracy. Beneq Products OY has acquired the electroluminescence business of Planar Systems, and now sells these leading thin film electroluminescent (TFEL) displays under the brand name Lumineq. LUMINEQ, renowned for its ultra-reliable rugged displays, has been innovating new display technology since 1984 and developed the world's most transparent displays in recent years. LUMINEQ transparent displays improve situational awareness of optical devices and vehicle safety by bringing dynamic information to the line of sight. They also empower automotive manufacturers to deliver premium travel experience by turning vehicle windows into touch displays.
Thin Film Electroluminescent Displays, TFEL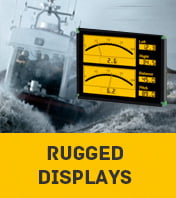 Lumineq® embedded TFEL displays are rugged and reliable more than suited for applications in extreme environments including retail and industrial, aerospace, mining, military and marine.
EL displays are built for demanding conditions including cold, heat, wind, dust, vibration, sunlight and even G-Forces.  These electroluminescent panels retain more than 75% of their original brightness after more than 100,000 hours of operation, making them ideal for a long term design.
The technology offers unparalleled image quality in a wide range of challenging visual conditions and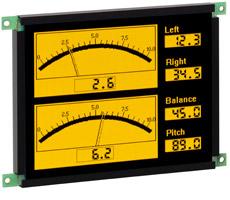 applications.  The rugged nature of electroluminescent means that the displays can work between -40 ~ +80 degrees.  The panels offer high brightness and contrast with a wide viewing angle of >160 degrees.  Fast response time, small package sizes and low EMI emissions with reduced power consumption which means EL is the perfect choice.
Their durability and ruggedness is proven by their extreme operating temperature ranges, high brightness and contrast, high shock resistance, their ability to surviving up to 200 g-force shock and a staggering 250,000-hour mean time between failures (MTBF) for the display glass. TFEL displays are capable of instant-on performance from -60 °C to +105 °C (from -76 °F to +221 °F), with instant pixel response over the entire temperature range, and no motion blur.
Electromagnetic compatibility: Lumineq TFEL displays support the end product in complying with FCC Part 15, Subpart J, Class B and EN55022, Level B, when housed in a suitable enclosure.
Electroluminescent Rugged Industrial Displays – 
20 Reasons Why TFEL Is Your Most Reliable Display Choice for Extreme Conditions
If you are still not convinced on how reliable and rugged these displays really are, then here is a list of 20 reasons as to why the TFEL is perfect for extreme conditions:
1. "Instant on" module performance as low as -60 °C (-76 °F) means no waiting for heaters to warm a TFT AMLCD.
2. No heaters required with TFEL means increased product reliability and no image smear artifacts common with TFT AMLCDs used at low temperatures. Glass is functional down to -100 °C (-148 °F).
3. Less than 1 ms response time for waveform presentation across entire temperature range.
4. Unaffected by solar loading, glass performs beyond +100 °C (212 °F).
5. +85 °C (185 °F) module operating temp, no cooling required, thus increasing reliability.
6. TFEL glass has 250,000 (h) MTBF, to reduce your product's warranty costs.
7. 100,000 h measured brightness with less than 15% reduction. Compare to TFT AMLCD technology that can lose 15% brightness in a single year.
8. Hermetically sealed glass and optional conformal coated circuit board outlasts all other flat panel technologies in moist or humid environments.
9. Battery power requirements comparable to backlit TFT LCD.
10. Integral Contrast Enhancement, ICEBrite™, delivers up to 1000:1 contrast ratio for daylight readability. Eliminates cost, time and hassle of bonding a TFT AMLCD for improved contrast.
11. Crisp, single- or multicolor presentation decreases viewing time requirements to facilitate faster user perception. Ideal for healthcare, vehicle, and mission critical instrumentation.
12. 179° vertical and horizontal viewing angles enable multi-person, off-axis viewing.
13. Wide dimming range, doesn't require an expensive, custom backlight inverter like TFT AMLCD.
14. Emissive pixel technology makes small text more legible than LCDs, thus greatly improving perception.
15. 200 g force shock durability for the glass and 100 g for the complete unit increases the dependability of your product.
16. All solid-state, digital design eliminates backlight failures and light leakage issues common for LCDs.
17. LCD compatible interface for easier integration.
18. Over 30 years of product life and still going strong! Long production lifetime helps you avoid redesigns triggered by component obsolescence.
19. RoHS II for worldwide compliance. Mercury-free product is better for the environment. Low EMI/EMC to ease certification of your product.
20. Worldwide and domestic technical support team.
Rugged EL Displays offer excellent benefits for many industries and applications including:
Agricultural control equipment
Fork lift display units
Military grade instrumentation
Mining equipment
Transportation control panels
Industrial ovens
Aerospace controls
Medical instrumentation
Range of TFEL Rugged Displays
Part No
Diagonal Size
Resolution
Active Area
(HxW mm)
Model Size
(HxWxD mm)
Op. Temp. Range
(°C)
Description & Options
EL 160.120.39 Series
3.07″, (7.79 cm)
160 x 120
62.3 x 46.7
94 x 62 x 20
-50 to +70 °C, Survival: -50 to +85 °C
ICEBrite, 0.39 mm pitch, dimming, locking connector, conformal coating option available as well as SPI Interface,
EL 160.80.50 Series
3.5″
160 x 80
80 x 40
109 x 57 x 21
40 to +65 °C
Wide dimming range, locking connector, conformal coating, industrial temperature range, extended temperature range and SPI Interface options
EL 240.128.45
4.8″ (12.2 cm)
240 x 128
108 x 58
140 x 77 x 15
-40 to +70°C, Survival: – 40 to +85 °C
ICEBrite, 0.45 mm pitch, built-in RAiO RA8835A controller, dimming, locking connector, conformal coating option
EL 320.240.36 Series
5.7″ (14.5 cm)
320 x 240
115 x 86
148 x 105 x 19
– 40 to +65 °C
Options for locking connector , conformal coating, ICEBrite, High-Bright, 0.36 mm pitch, dimming, broad input voltage and ICEBrite with SPI Interface available
EL 320.240-FA3 Series
4.9″ (12.4 cm)
320 x 240
99.15 x 74.36
150 x 105 x 20.3
-50 to +85
Multicolor red/green/yellow, 0.31 mm pitch, dimming, locking connector, broad input voltage, conformal coating option available
EL40S
110 × 26
138 × 56 × 21
High brightness 300 cd/m² segmented display, 40 segments ICEBrite, SPI interface, conformal coating option available
EL 640.480-AG Series
8.1″
640×480
165.1 x 123.8
218 x 156 x 20
-40 to +85 °C, Survival: -40 to +105 °C
EL640.480-AG1 with wide input voltage, conformal coating option available, New LVDS Interface Version release with estimated availability: – Engineering Samples in Q4'16 – Production shipments in Q1'17
EL 640.480-AF Series
6.4″
640 x 480
129.3 x 97
182 x 129 x 20
-40 to +85
EL640.480-AF1 with , dimming, locking connector, EL640.480-AF with LVDS Interface, dimming, locking connector, New LVDS Interface Version release with estimated availability: – Engineering Samples in Q3'16 – Production shipments in Q4'16
EL 640.480-AM Series
10.4″
640 x 480
211.1 x 158.3
226 x 192 x 20
-60 to +65 °C
EL640.480-AM8, 12 V only (no 24 V option), conformal coating option available, LVDS Interface, dimming, locking connector, New LVDS Interface Version release with estimated availability: – Engineering Samples in Q4'16 – Production shipments in Q1'17
EL 640.480-AA1
10.1″
640 x 480
211.1 × 158.3
262 × 205 × 22
-25 to +65 °C
EL 640.400.CB
9.1″
640 x 400
195 × 122
226 × 153 × 16.5
0 to +55 °C
EL 480.240-PR3
6.4″
480 x 240
146.3 × 73.1
189 × 108 × 21.5
-25 to +65 °C
EL 512.256-H
8.6″
512 × 256
195.1 × 97.5
233 × 136 × 16.5
0 to +55 °C
EL 320.256-F
4.8″
320 × 256
95.9 × 76.7
130 × 110 × 31.1
-25 to +65 °C
Custom Options
In addition to our range of standard products, Beneq offers custom Lumineq displays. You can design your own displays and still get all the benefits of our proven and robust thin film electroluminescent display technology, manufactured in-house at Beneq's factory in Finland.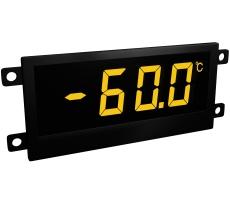 Lumineq lifecycle programs, with guaranteed long-time availability, make it easy for customers to focus on their products, and keep them in production longer.
Datasheets Available on request.
If you have any questions or would like any additional information, pricing or datasheets, please contact us.
If this was of interest to you, also check out our Transparent Electroluminescent Displays page.