We take immense pride in offering a comprehensive range of TFT Displays, ensuring that our customers have access to a diverse array of options to meet their specific needs. Our display range spans from the smallest at 0.96″ (80 RGB x 160) to the most expansive at 49.0″ (3840 RGB x 2160). We cover all the popular industry-standard sizes in between, and even some less conventional sizes and formats. Within this extensive range, you'll find a variety of options, including Bar Type or Stretch display formats, square displays, and the latest high-resolution round displays.
At Startek, our philosophy is rooted in serving our customers to the best of our ability. We make it our mission to never End-of-Life (EOL) a display, ensuring that the solutions we provide remain accessible over time. Additionally, we refrain from imposing Minimum Order Quantities (MOQ) for standard parts, meaning you can obtain the products you need without unnecessary restrictions.
We also maintain ample stock levels to facilitate rapid customer evaluations, design-ins, and pre-production runs. This commitment to readiness extends to our large stock of common IC drivers/controllers, enabling us to swiftly meet our customers' demands.
Our goal is to be your reliable partner in display solutions, providing a wide range of options, flexibility, and the assurance of readily available products for your convenience and success. Your satisfaction is at the core of our approach, and we look forward to continuing to meet your display needs with excellence.

Make a Bold Statement with a Round Display!
Elevate your product to new heights by opting for a round display. Gone are the days of using a circular bezel over a 4:3 aspect ratio display to achieve the perfectly round image your product deserves. Round displays have evolved into a standard offering within our display portfolio, and they're here to stay.
These displays open up a world of design possibilities, enabling your product to stand out and make a striking visual impact. Applications for round displays are vast, spanning from household kitchen appliances to temperature controls for heating systems, and this is just the beginning. As product designers embrace the modern aesthetic and high specifications of round displays, we anticipate even more innovative applications in the future.
Don't settle for the ordinary when the extraordinary is within reach. Embrace the modern look and the endless possibilities of round displays to set your product apart from the competition and captivate your audience with a unique and eye-catching design.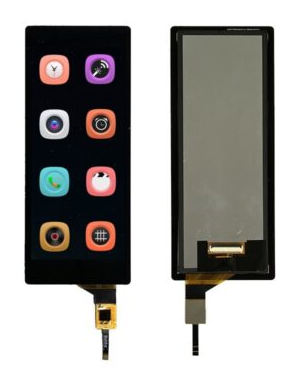 Extensive range of industry standard displays
Large stocks
No EOL or MOQ on standard products
Bar type and stretch display formats
Round displays
Square displays
Touch options (PCAP & 4W Resistive)
HDMI & USB Type-C Interface options
High brightness options
IPS All View Technology
Wide viewing angles (85°/85°/85°/85°)
Portrait and landscape viewing & mounting options
Greater choice – multiple formats within the same display size
Transflective sunlight viewing options
Custom solutions for PCAP cover glass (low NRE)
Displays for Those Awkward Spaces
In the world of product design, there are often spaces that prove challenging for integrating displays. However, our extensive selection of Bar, Stretch, or Cutdown displays offers OEM product designers a powerful solution. These displays enable you to infuse your equipment with vibrant, dynamic color displays, eliminating the need for compromises in display technology.
Gone are the days of settling for monochrome displays or sacrificing graphics for characters. With these versatile displays, you can now navigate even the most awkward and unconventional spaces, ensuring that your product's design remains true to your vision.
Empower your designs with the flexibility and creativity that our range of displays provides, allowing you to bring your ideas to life without limitations. Your products will not only fit those challenging spaces but also shine with the brilliance of dynamic color displays, enhancing their appeal and functionality.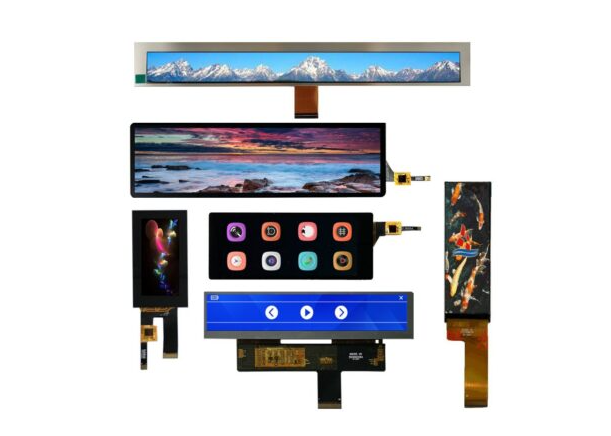 Displays for Quick and Easy Integration
For those seeking the fastest and most seamless display integration into their applications, choosing a version with an HDMI interface is the way to go. Our TFT+HDMI solutions, including optional CTP Touch versions, make this process incredibly straightforward. OEM product designers can effortlessly integrate a display into their designs by pairing these solutions with standard off-the-shelf single board or industrial box PCs.
The compact HDMI boards we offer drive the TFT panel, control the LED backlight, and manage any touch functions through their integrated USB interface support. This all-in-one functionality streamlines the integration process, saving valuable time and effort.
In terms of power, the modules are designed to be powered by a standard 12VDC power supply, accessible via a DC-044 female socket. This ensures that the integration process is not only quick and easy but also compatible with common power sources.
By choosing our HDMI interface solutions, you can significantly expedite the integration of displays into your applications, facilitating a more efficient and streamlined design process. Your products will benefit from high-quality displays that not only look great but also function seamlessly within your systems.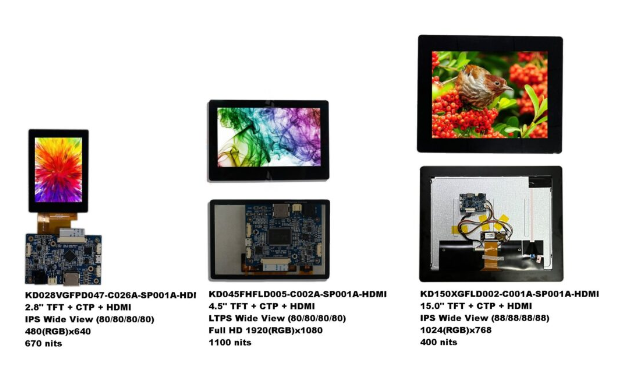 Our HDMI range of displays offers a diverse spectrum of sizes and resolutions, catering to various applications and design needs. The range starts with a compact 2.8″ display at 480 (RGB) x 640 VGA in portrait orientation and extends up to a spacious 15.6″ full HD display at 1920 (RGB) x 1080 in landscape orientation. This comprehensive selection includes all the common industry-standard sizes, as well as some less conventional but highly valuable options.
These displays are characterized by their high resolution and exceptional optical specifications, making them a compelling choice for those who prioritize display quality in their products.
Furthermore, Startek stands firmly behind its commitment to quality and customer satisfaction. As with all Startek displays, our HDMI range benefits from our pledge of long product life, ensuring that you can rely on these displays for the long term. Additionally, we eliminate Minimum Order Quantities (MOQ) for our HDMI range, allowing you to obtain the products you need without unnecessary constraints. This combination of quality, variety, and flexibility makes Startek's HDMI range an excellent choice for your display requirements.