When choosing the perfect digital signage solution for you one of the first options to consider is whether to opt for standalone displays or a networked solution.
When given the choice most entry level users would prefer to use standalone, plug and play displays as they are cheaper and easier to use compared to any networked solution.
More experienced or tech savvy users may wish to use a networked solution as these are much easier to manage and can be remotely updated and controlled.
It is important that the screens you are buying include mounting solutions for installation, as often they do not.
Ease of installation is also an important factor for an end user. Some screens are so simple to install the customer can do it themselves whereas others are far more complex and require specialist assistance.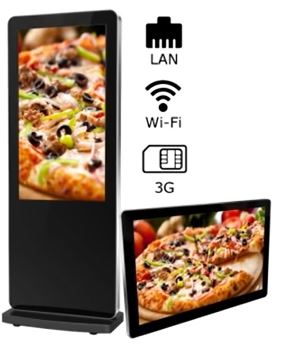 You should also consider future proofing your investment by purchasing screens that can be upgraded from plug and play devices to networked displays.
If your Digital Signage project is initially only small scale then a more cost effective solution of using standalone plug and play displays is appropriate.
If the project has the potential to grow substantially, however, then you must consider if the screens can be upgraded so as they can be part of a network.
A large number of our displays can be upgraded to networked displays so content can be updated via the internet for displays in different locations on the same network 🙂
For more information on our Digital Signage range click here.
Or alternatively email info@crystal-display.com or call our main office on +44 (0) 1634 327420.