CDS launched their new wide stretched LCD Point of Sale display for advertising directly on the shelf edge a few weeks ago now and they have developed and tested a hugely impressive version with an inbuilt media player which is proving increasingly popular!
The amazing low cost displays are "bezel-less" with no bezels in-between each display, a huge advantage which customers have been asking us for years!
The original M0-275-001-EW-1000-L has a DVI input as standard (HDMI available), a USB model and NOW a version with a built-in Media Player is also available!
The MP-275-001-EW-1000-L makes running content on the unusual displays so easy!
It is a 27.5" cut Display with 1000 nits brightness via an LED backlight.
Resolution = 1366 x 70 pixels and a viewing area of 697.7(H) x 35.7(V)mm.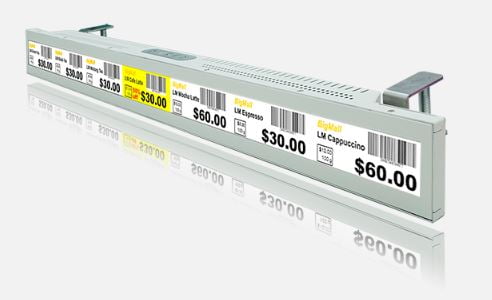 The outside dimensions are only 722.1 x 69.7 x 38.8 mm.
Full data sheets and user manual for the media player are available upon request, follow the links for more details.
Take a look at our full range of Digital Shelf Edge Displays
To check out our full range of wide stretched display monitors please visit our main Bar Type Displays Webpage
Or to receive more information about this particular product or the spec sheet for it please contact our sales team via email or call us directly on +44 (0) 1634 327420