Our ten inch POS Advertising Displays and POS PCAP Touch Screens have been so popular we have now been able to launch the new addition to our range of 10″ POS Displays.
The stunning commercial grade monitor is perfect for public environments such as shelf edge and POS displays.
With the HDMI input you can attach external devices such as media players and power your screen with PoE (Power Over Ethernet).
Control, customise and scale the monitor via RS-232 for the ultimate control. Our POS Professional Monitors are so versatile that if required, they can also be used as a POS PCAP Touch Screen Monitor.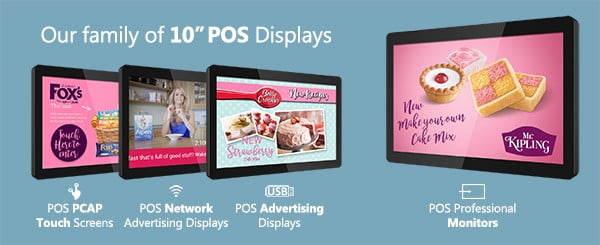 The 10″ POS Professional Monitor is the latest addition to our POS range. This range includes our POS Advertising Displays, POS Network Advertising Displays and POS PCAP Touch Screens.
The new 10″ POS Professional Monitors are in stock now and ready for immediate dispatch. Get in touch today to take advantage of these incredible new displays.
To find out more, visit our Digital Signage page.
For more information please email info@crystal-display.com or call our main office on +44 (0) 1634 327 420.