.
The latest Transparent Display technology is being built into a refrigerator (fridge) cooler and is available.
It utilises a high quality 32″ transparent Display panel built into the fridge door with media player built in for easy update of content. The client simply updates the content (video or static) via the USB slot. EASY!
Technical overview
Display Size 32 inch 16:9
Active Display area 697.68(H) x 392.25(V)
Number of Pixels 768 x R.G.B. x 1366
Color = Black
Net weight = 70KG
Metal Casing
Built-in Network Media Player
Support Formats =  MP4,AVI, JPG,MP3,TXT
Software = NIES network server software
Sound System = Stereo 5W*2
Fridge Specifics
GROSS CAPACITY 118L
COOLING PERFORMANCE = 0-8 Degrees C
Connection = WIFI or LAN,
Power Supply AC 220V 50-60Hz
Inside view
This is suitable for Bars / clubs, offices, exhibition stands etc. making an excellent promotional product with real punch.
For more information please email us at info@crystal-display.com or call our main office on +44 (0) 1634 292 025.
Back view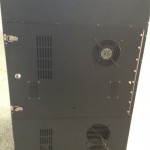 Example video of transparent Display being used on a fridge cooler: http://www.youtube.com/watch?v=Hex58hWsrbE&list=UUdZO96tFTYvyTWi8SW11yIA&index=1&feature=plcp
.