TAICENN have modified a new model TBOX-1410R1 by adding 1*RS232 interface.
The TAICENN TBOX-1410R1 is an embedded mini PC model, it adapts Intel Apollo Lake low power J3455 CPU, resulting in an advanced computing performance. TBOX-1410R1 storage can support 1 *mSATA SSD or HDD; the design has a limited communication interface, with 2* LAN ports, 1*RS232, 4* USB ports. With a power input of DC 12V voltage and over-current, over-voltage and reverse-polarity protection. This embedded mini PC model is designed with a serial port in the front plate.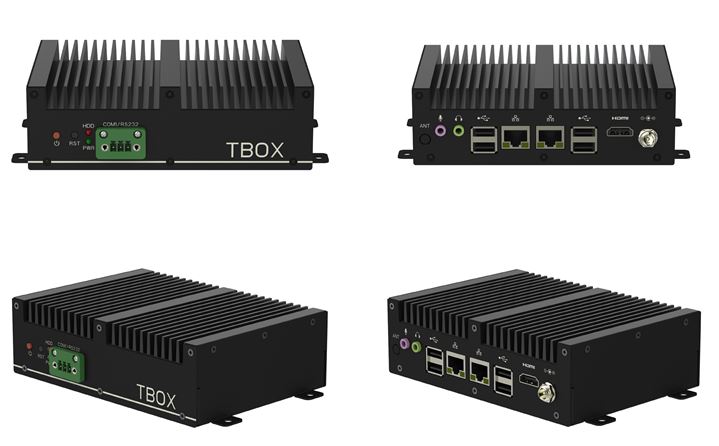 It is a fully-sealed box construction which can prevent dust from entering the device's system. Large aluminium fin heat sink can distribute the heat effectively and quickly, ensuring the longer reliability and life-span of the system. Boasting an operating temp. of -20℃~+60℃, it can be suitable for long operating times and harsh environment industrial application projects. This includes; intelligent transportation system, machine vision, medical device, textile machinery, rail transportation and industry automation. TAICENN TBOX-1410R1 can be compatible with Windows10, Linux Operating system and embedded Operating system, and it is also compatible with application software based on those operating systems.
Key features:
Ultra-compact sealed aluminium box design;
Intel Apollo lake Celeron J3455 low power processor;
DC 12V input, with over-current, over-voltage protection;
Dimension: 168.4 x 106.2 x 45 (mm)
I/O: 4x USB, 2x GLAN, 1x RS232, 1x HDMI, Audio.
For more information on these products please visit our webpage – https://crystal-display.com/products/embedded-systems/
To find more information on the products please go to the following links below:
For more information please email us on info@crystal-display.com or call our main office on +44 (0) 1634 327 420.