An LCD display's sunlight readability depends on the difference between display brightness and the ability to reflect ambient light.
Sunlight can make the screen of the display hard to read. When a touch screen is added to the display, the ability to properly see the display image becomes increasingly difficult. A touch screen on an LCD display adds extra reflections.
A reflection is caused by a mismatch between air and glass or plastic. This mismatch makes whites brighter, while it tempers blacks and other colours. This quickly reduces the contrast of the display. Contrast is a tremendous influence on the sunlight readability of the display.
There are many technologies to increase the outdoor viewing ability of an LCD display.
High Bright LED Backlight
can accomplish a much higher brightness- LEDs are designed to operate in extreme ambient light conditions, such as in direct sunlight
fully dimmable, so the brightness can be adapted based on the environment of the application
designed for power conservation and provides proper thermal management.
Optical Bonding
focuses on reflection- reducing the contrast of the display enhances the image
acts as joining two optical elements, such as the display screen and a (protective) overlay or the display and a touch screen – involves transparent adhesive which also provides vandal resistance
resistant to extreme temperatures
reduces the gap between the layers, which makes the designs light and thin
reinforces and ruggedises the display – better equipped to handle shock and minimises breakage
increases the safety of the product -the bond will keep the glass in place even when it breaks from abuse.
Surface Treatment
display surfaces can be treated with an anti-reflection surface treatment.
UV and Infra-red Protective Films
protects LCD against the sun which can be very damaging for the lifetime and UV effects the readability over time
Infra-red light beams produce heat, overheating can cause damage to the display.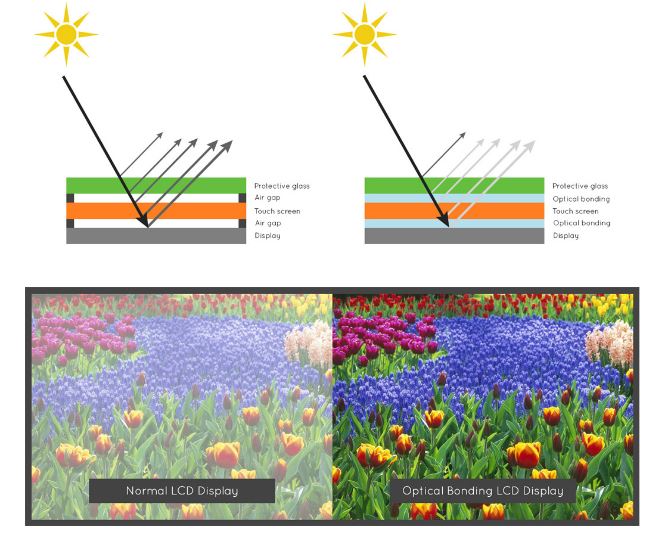 Optimizing the brightness of the display screen, reducing reflection and protecting your display from the sun will immensely benefit the sunlight readability of the display.
To check out our sunlight readable displays range please visit our Sunlight Readable TFTs Webpage or our High Brightness Monitors and our Stretched LCD Displays are even high bright.
For more information including pricing and a data sheets please email info@crystal-display.com or call our main office on +44 (0) 1634 327 420.