Here at CDS we have a great range of innovative stretched LCD displays, also known as cutting / BAR / bar type / bar top panel displays. The unusual ultra-wide aspect ratio and the high brightness gives perfect visual performance in a wide variety of applications, including outdoor.
These amazingly unique LCD TFT displays can be used in a wide, varied amount of applications but can be seen to be tailored perfectly for gaming, automation and many other industrial projects.
Our stretched panels are assembled with full industrial grade components (panel, LED driver, AD board & power supply) to ensure the highest standards of reliability are met and a number of our stretched range are sunlight readable with up to 1200cd/m2 brightness as well as excellent contrast and aspect ratios!
Check out the 28 Inch Wide Stretched High Brightness Panel Kit for integration. Part of a large range of ultra wide displays with impressive aspect ratios.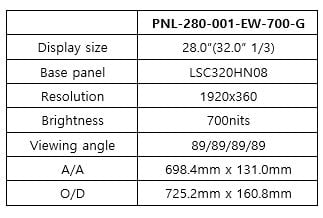 These wide stretched displays can be used in many interesting projects and installations.
Take a look at our full range of Wide Stretched Displays
For more information including pricing and a data sheet please email info@crystal-display.com or call our main office on +44 (0) 1634 327 420.