New Range of Lower Cost IP66 Monitors
CDS begins by ensuring our suppliers have developed state-of-the-art industrial monitor electronics for high volume markets.
Our factory then select the best electronics with features especially important for industrial users, adapt them for industrial applications and test and certify that they will handle the high intensity and rigours of such applications as outdoors, marine, military, and factory floors etc that can be subject to  spray cleans / washes, high temp, high humidity, dirt, dust, fluids, shock and vibration!
Because CDS works with and partners with the best experts in the monitor industry, we  do not have the big overheads of electronics engineering departments like other huge industrial monitor suppliers.
Therefore our factories can continually update our electronics to take advantage of the latest technologies, which can change at a pace.
Therefore we attempt to offer the most up-to-date and relevant technology in IP rated monitor technology to give you the best and most reliable technologies.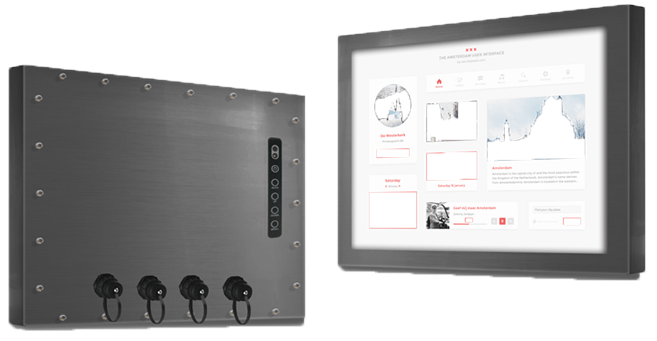 Why use CDS's IP66 monitors? (IP65 also available)
CDS's IP66 All Weather video monitors are designed completely sealed to meet IP66 standards and specifications (IP67/NEMA 6 and MIL-STD/MIL-SPC upon request ).
Engineered and tested to operate in extreme harsh environments, these units are waterproof, shock & vibration resistant, and can be equipped with wide operational temperature components (extended operational temperatures available).
The powder-coat aluminium construction provides excellent corrosion resistance and protection from the elements. VESA or RAM mounting holes gives you rugged and versatile mobile mounting options.
Waterproof IP66 Monitors are becoming more requested whether it be IP66 rated stainless steel panel mount 19-inch touch screen monitor or IP65/IP66 Waterproof Computers / NEMA 4x PCs etc as the technology now allows Fully Enclosed Waterproof Monitors and Industrial Touch Screens to be utilised now in many more environments and applications.
This can be Panel Mount Monitors, stainless steel monitors, high brightness monitors, and Industrial Touch Screens or those with other mounting solutions.
Where can the CDS IP66 solutions can be used?
There are numerous applications and these are growing as the LCD TFT / Touchscreen / IP65 / IP66 and IP67 technologies have improved but some of the main ones are:
Reliable solutions need sealed units for life science industries for sterile solutions.
Oil and Gas industry need sealed products for that can suffer from hot and cold temps. Vibrations and shocks.
Hygienic solutions for food processing as solutions  need to be easy to clean, use and manage in production.
Chemical industries that require sealed monitors.
Food production needs sealed units for cleaning and touchscreen with NO GLASS, so CDS utilises extremely strong polycarbonate for interactive monitors.
Other applications include robotics, industrial machines, Outdoor applications, packaging, building-construction, machine automation etc.
Overview summary
IP66 monitors from sizes 5.7" up to an amazing 85"!
Resolutions from 640 x 480 up to an amazing 4K 3840 x 2160!
Standard and Ultra-wide viewing angles
IP66 cables can be included
With and without speakers
With and without external adaptors
Operating temperatures from 0-50 up to an amazing automotive and military suitable -30 to +80 Degrees Centigrade!
All low power LED backlights
For more information please visit https://crystal-display.com/products/waterproof-ip66/
For less industrial outdoor displays check out our wide range of IP65 outdoor monitors, perfect for outdoor digital signage and advertising, please visit out Outdoor Monitor webpage.
If you need to go that one step further we can also offer IP67 monitors 8.4″ – 23.1″ and 7″ – 27″ widescreen.
For more details including info, pricing and spec sheets on our waterproof displays please contact us.