Another addition to our sunlight readable displays ideal for window advertising due to the high brightness. Discover the latest innovation in window displays with our range of Freestanding Ultra High Brightness Digital Posters.
This new display incorporates our Ultra High Brightness display technology with a stylish freestanding white enclosure; everything included ensures you have an all-in-one signage solution for your window.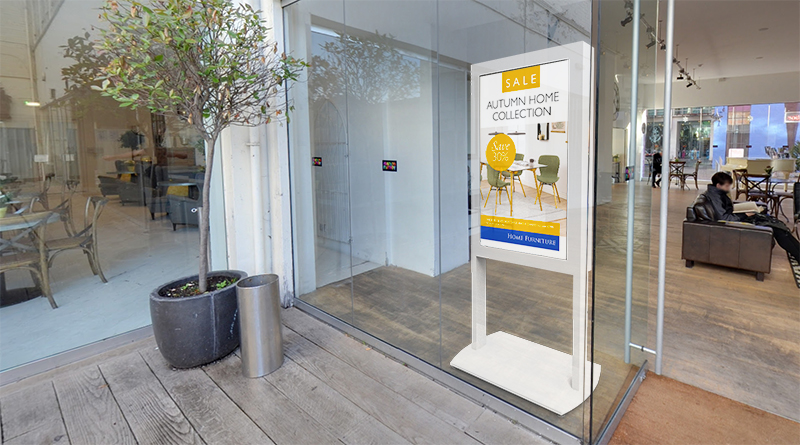 Initially available in a 46" model (other sizes available on request) the Freestanding Ultra High Brightness Digital Posters has the following features;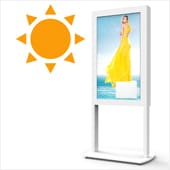 Direct Sunlight Readable – With a brightness of 2,500 cd/m2 these displays are ideal for window displays with lots of direct sunlight.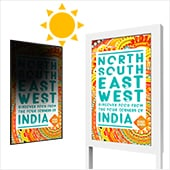 Resistant to Blackening Defects – These displays can withstand surface temperatures up to 110⁰C making them highly resistant to any blackening defects that can affect other Digital Signage displays that are placed in windows.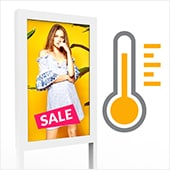 Advanced Temperature Control System – To keep the Ultra High Brightness LCD panel at the optimum temperature, the display has an advanced temperature control system to regulate the heat.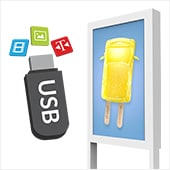 Plug and Play – The integrated Android Media Player makes it easy to load content to the display via USB plug and play.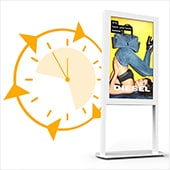 Environmentally Friendly Power Timer – The display's internal power timer allows you to set daily or weekly on/off times, saving power and removing the need to manually power the screen on or off.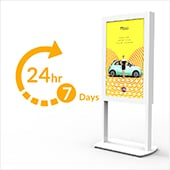 24/7 Usage – Built with a commercial grade panel and components these displays are designed to run 24/7 and have an expected lifespan of over 70,000 hours of continuous use.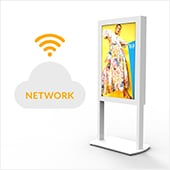 Network Upgrade – For a small charge you can upgrade the display to be networked. This unlocks a host of new features including multiple media zones and allowing you to update content via LAN, Wi-Fi or 4G.
To find out more, visit our High Bright Offerings here. 
For more information please email info@crystal-display.com or call our main office on +44 (0) 1634 327420