Features and Applications for Small Transparent LCDs
CDS the Transparent Display specialist highlights some of the applications that could use transparent Displays as well as some of the features that make the technology ideal for such projects and products.  CDS lifts the lid on the growth of the transparent technology.
What is a Small Transparent LCD Screen?
A small transparent LCD display is an up and coming technology which has taken the world by storm. The transparent screen is the same one which is used in an ordinary smart phone which has been stripped down to contain only the front screen which displays the content for the viewers to see. In this way, the screen does not have a backlight among a few other components which allow it to be partially transparent for one to clearly see through it. This has opened up many opportunities for the technology to be implemented in many small and big devices for both commercial and personal use.  These displays can prove to be very handy to use in a number of different products and services as they can help re-imagine the way in which certain tasks can be performed. Continuous R & D is being carried out on how to fine tune the technology to make it more suited to carry out different tasks in the best possible way.  A wide range of transparent screens can be seen here: https://crystal-display.com/products/transparent-lcd/

Transparent in a Box!
Some applications will require high bright backlighting so these can be supplied in a box rather than as a panel only or kit solution so the customer can simply plug their content in and it runs.  There is a wide range of Boxed solutions from CDS many of which can be seen here, although custom boxes are also available to meet your exact requirements:   https://crystal-display.com/products/transparent-showcases/
Some Features Look Futuristic!
A small transparent LCD is very purposeful and can be used for accomplishing a diverse set of tasks. Its ability to display informative text, colourful images and rich videos has attracted interest from many industries which can leverage its in-built features in a plethora of ways. Some of the basic features which make these screens unique are;
Lightweight – The screen exactly resembles a glass window in its shape, size and design. The absence of any other components attached to the screen makes it very light and easy to handle allowing it to be installed in places where it might not have been practically possible.
Visible Transparency – The ability to see through the screen is the USP of a transparent LCD screen. This opens up the possibility of the technology being implemented in different fields of work such as the automotive industry, hospitality sector and many retail store formats.  Specialist Transparent Displays can be found here for more rugged applications also with extreme temperatures: https://crystal-display.com/products/lumineq-transparent/
Customisable Programming – These revolutionary transparent LCDs also allow you the option to customize the contents of the screen to display whatever you want it to show.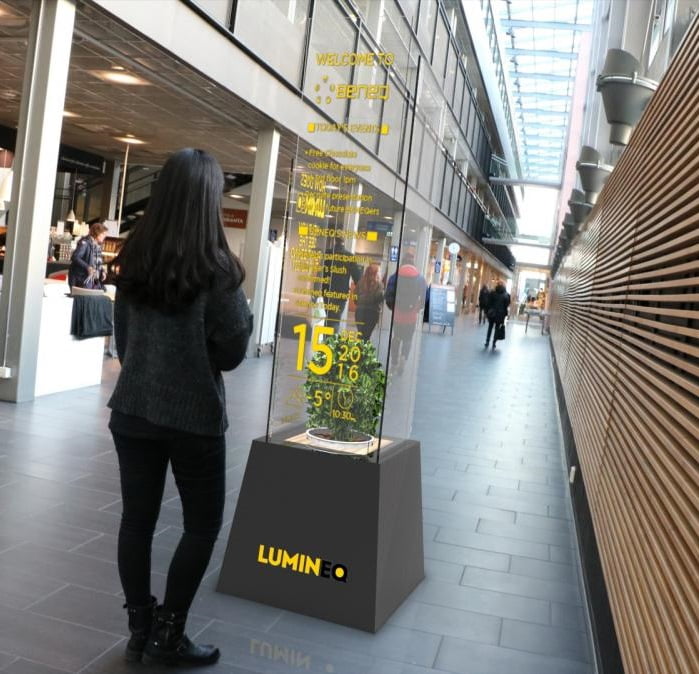 The Future is NOW!
Many industries have pondered on the feasibility of installing such transparent LCD screens to help them add value to their business functions and value in the long term. However, the high price has hindered the mass adoption of this technology, but many more people are using them to create that WOW Factor.  Originally Only the pioneers in their respective industries took the step and test these new screens by installing them in their stores. But now many huge brands such as Nike, Adidas, Lego and many others have adopted this technology to enhance their operations and improve their growth and brand awareness.  CDS has hundreds of design-ins and applications including stores, exh8ibitions, museums, Headquarters, attractions, and reception areas.  A large selection can be found here:  https://crystal-display.com/products/transparent-case-studies/
For more information on our Transparent display solutions please email Meghan Mudge on mudge@crsytal-display.com or call her on our main number on +44 (0) 1634 327 420.