CDS offers the full starter kit for transparent LCD displays!
Transparent LCD Displays are the latest innovation in LCD technology, opening a wide range of new opportunities in retail and marketing.
Here at CDS we have our own range of transparent displays manufactured for us, and as we control the manufacturing, we can not only offer more sizes than anyone else in the world, but also guarantee stable supply, long term availability and LCDs with amazing quality.
The technology allows you to display information / promotions on the digital display, whilst allowing you to see through it.
This integration kit is designed to be built into an enclosure produced by the buyer/integrator.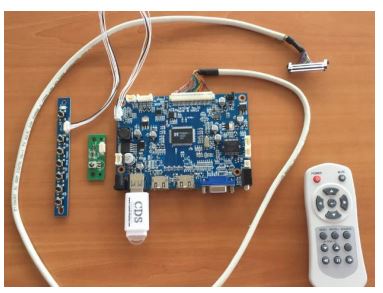 This is the complete kit for sampling transparent LCD technology and includes;
the panel
the HDMI driver board (with connection over LVDS, USB & HDMI input as well as DC power)
the cables
IR remote sensor
remote
power supply

Optional additions to complete the kit;
LED strip lighting
Metal media board enclosures

If you are interested in transparent LCD technology but are not sure how to install/implement into your application then why not contact us to receive our transparent FAQ document, this will give you all the initial information you need and will answer all those first questions that arise when considering a transparent display.
Did you see our newly launched 3DP transparent? A newly designed concept which presents customers with a new solution for their transparent installs.
If these displays are of interest to you and your company, please contact us!
You can find a great collection of transparent LCD installs on our case studies page. 
This could give you some great ideas and inspiration for your own transparent masterpiece!
Or to simply find out more information about this product please visit https://crystal-display.com/products/transparent-lcd/ and to request data sheets please contact the team via email info@crystal-display.com or call the UK main office +44 (0) 1634 327420.