Interested in 100 points of touch with a projected capacitive touch foil?
DISPLAX have done the impossible with their full range of PCAP touch foils!!
These incredible foils make it possible for interactive digital signage and touch LCD integration which supports customers and system integrators alike interested in implementing attractive high performance displays between 30 and an impressive 105 inches.
DISPLAX are committed to constantly scale and develop their technology for large format multitouch displays, amazing for the development of touch technology.
DISPLAX pride themselves on being the industry's supplier of choice for reliability and high performance.
A new model for the range their 55 inch multitouch foil with a totally transparent touch sensor which is combined with Displax's capacitive touch controller for large format displays.
it's not just our word, the amazing touch foils have been announced as the world's fastest! as an addition the controller module can be incorporated with DISPLAX's Pressure Sensing technology which enables an incredible 1,024 pressure levels.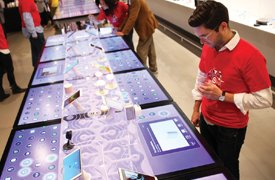 The unbeatable PCAP touch foils, as well as demonstrating ultra-fast touch response for up to 100 simultaneous touches are also built to last in demanding environments with high performance levels.  The foils are also compatible with leading computer operating systems  and can support attractive casings, including bezel-free and tablet like aesthetics.
To check out the range of Displax Touch Foil range please visit our Displax Webpage.
For more information including pricing and a data sheet please email info@crystal-display.com or call our main office on +44 (0) 1634 327 420.