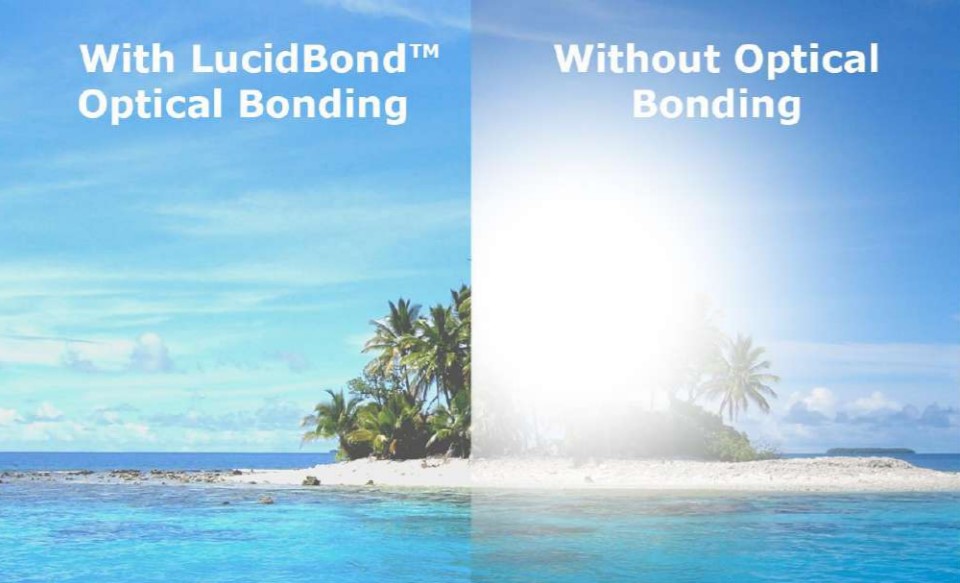 To show Crystal Display Systems full optical bonding capability, we have put together a new 10.1" assembly utilising the latest material and process to enable our customers to physically see the benefits of optical bonding.
The demonstration unit consists of a high bright 1000cd 10.1" diagonal 1280×800 WXGA TFT display, it has a wide viewing angle of 170°/170°, and operational temperature from -20°C to +70°C and a long backlight life of 70K hours.
We have optically bonded a Glass-Glass projective capacitive (PCAP) touch sensor with 4mm rear printed black border cover-glass.  We have tunes its EETI 3160 USB controller to maximise performance.
We have used a half-half optical bonding technique which we believe is the only real way to show the 'before and after' advantages of optical bonding.
These kits are also available for purchase for dev kits to help project development.
WHAT IS OPTICAL BONDING
Optical bonding is the elimination of the void or air gap between the front of an LCD and rear of the touch glass / filter.  This has a number of advantages, the most obvious being an enhanced visual image in high ambient light conditions.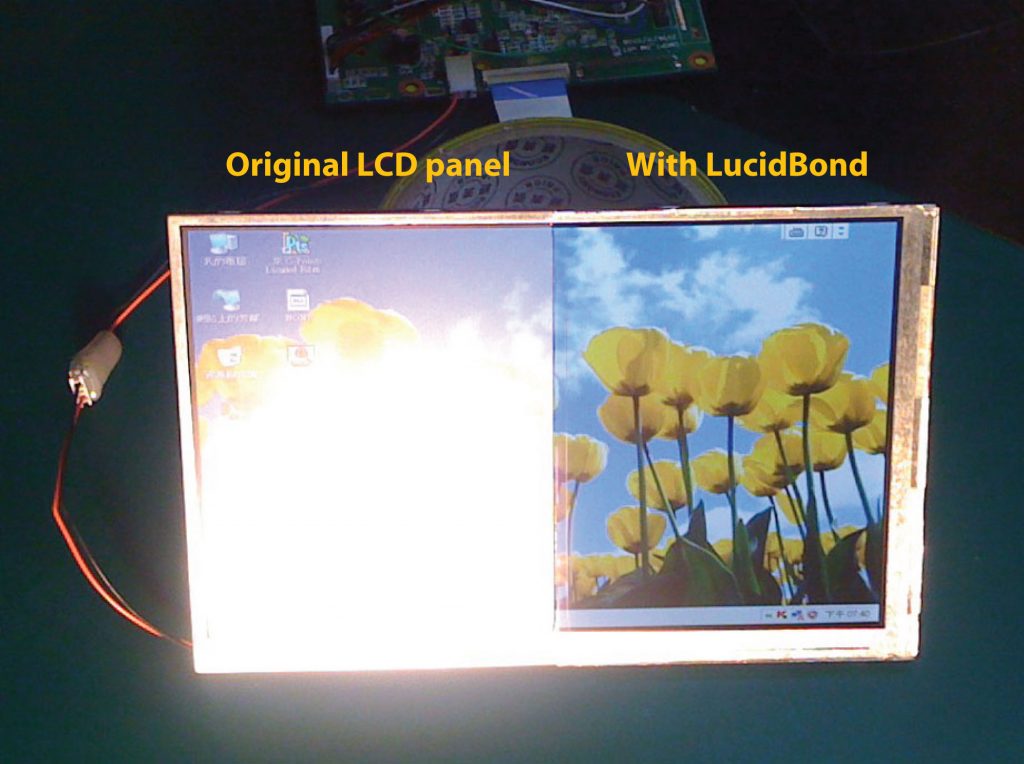 Other advantages include:
Increased contrast and viewing angle
UV protection / UV resistance
Extended temperature performance
Improved visual quality
No water condensation or contamination
Better impact resistance
Eliminated wash out effect
Download our optical bonding flyer
SHAPED COVER GLASS
Optical bonding is a premium solution and often used for applications which need to have premium aesthetics.  The advantage of an optically bonded solution with PCAP touch is that we able to customise the cover glass to give a complete branded solution.
The customisation can include a simple different colour rear screen print, through to a custom shaped cover glass with apertures.  Our sales team have samples to show how this can look and solutions are available in relatively low production run and minimal / no tooling.
Check out our Optical Bonding page here 
For more information please email info@crystal-display.com or visit our contact page for our full contact details.