CDS offers Displays for Extreme Conditions
Lumineq® Displays, a business unit of Beneq, is the world's premier manufacturer and developer of thin film electroluminescent (TFEL) displays. Lumineq TFEL non-transparent displays are used in mining, marine, military, medical and many more demanding environments. TFEL displays are robust and reliable, and usually used in extreme environments, where traditional displays cannot cope with the conditions.
Lumineq transparent TASEL® displays combine the rugged and reliable build of TFELs with the unique freedom of designing a completely transparent display. TASEL is ideal for consumer electronics, architectural use and other fields where viewing experience and product aesthetics is of paramount importance.
Key Features & Benefits of these displays;
No heaters or coolers needed; module performance as low as -60 °C and as high as +85 °C
Crisp viewing experience
179° vertical and horizontal viewing angles enable multi-person, off-axis viewing
Wide dimming range
Emissive pixel technology makes small text more legible than LCDs
200 g force shock durability for the glass
Easy to integrate
Long product life
RoHS II for worldwide compliance
Rugged EL Displays offer excellent benefits for many industries and applications including:
Agricultural control equipment
Fork lift display units
Military grade instrumentation
Mining equipment
Transportation control panels
Industrial ovens
Aerospace controls
Medical instrumentation
CHECK OUT THE 20 REASONS TO CHOOSE LUMINEQ 
Custom Electroluminescent Displays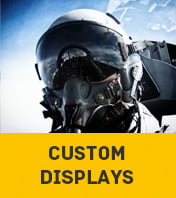 Don't seem to find the right display from the market for your special application?
Need a rugged or transparent display with a special size or shape?
Have special requirements, such as special shape of display or drilling holes in the middle of it?
Customized Lumineq displays may be just the solution for you.
In addition to our range of standard products, Beneq offers custom Lumineq displays. You can design your own displays and still get all the benefits of our proven and robust thin film electroluminescent display technology, manufactured in-house at Beneq's factory in Finland.
To get started with designing your own customized Lumineq display, visit our configurator page.
Making demonstrators for new products is efficient and affordable. You can pick one of our standard demonstrator displays, or we can tailor a customer-specific concept and demonstrators to match any need. You can define the size and shape of the displays, as well as the graphics and information to be displayed. The display glass can also be drilled or cut to shape to fit demanding end-product specifications.
The simple process:
Select the display type, rugged TFEL or transparent TASEL
Define size and shape of the concept
Define the information to be displayed
Draft a layout
Contact us for a demo.

Lumineq displays are true enablers. If you are looking for reliable displays for extreme conditions, the TFEL displays are the display of choice. If you want to capture the magic of transparency, contact us for a customized TASEL display. The opportunities created by our displays for extreme conditions, by adding a see-through display to a new product or by adding content to an existing window surface are literally limitless.
To see more on our Rugged EL Displays and our Transparent TASEL displays please click on the images to the left and right.
If you have any questions or would like any additional information, pricing or datasheets, please contact us.
For the latest news on our Electoluminecent range please click here