Ultra-Low Power E-Paper Displays
WHAT IS CDS E-PAPER?
E-paper, also known as electronic paper or electronic ink display, has a paper-like high contrast appearance and an Ultra-low power consumption and effectively mimic the appearance of ordinary ink on paper.
The display is an electronic replacement for traditional paper that we can use for reading things like books, magazines and more. E-Paper, much like real paper, will only reflect light (though newer devices may also feature a back-light to improve readability), so uses much less power than traditional LCDs.
Second is the unique way that E-Paper displays things on the screen. Traditional LCD displays have three colours per pixel – red, green and blue (RGB) – and will light up a combination of these across the entire display to show pictures and video in the correct colour. E-Paper displays have so far only been available in black and white, and they work in a simple way.
Range of E-Paper Displays
| Part Number | Size | Resolution | Interface | Op Temp °C | Gray Scale |
| --- | --- | --- | --- | --- | --- |
| CDS-EP-029 | 2.9" | 296 x 128 | SPI | 0~40 | Black & White /w Red |
| CDS-EP-565 | 5.65" | 600 x 448 | SPI | 0~40 | Black & White /w Red |
| CDS-EP-060 | 6" | 758 x 1024 | SPI | 0~50 | 16 Gray Level |
| CDS-EP-097 | 9.7" | 1200 x 825 | SPI | 0~50 | 16 Gray Level |
| CDS-EP-103 | 10.3" | 1404 x 1872 | SPI | 0~50 | 16 Gray Level |
| CDS-EP-133 | 13.3" | 2200 x 1650 | SPI | 0~50 | 16 Gray Level |
| CDS-EP-312 | 31.2" | 2560 x 1440 | USB / Ethernet | 0~50 | 16 Gray Level |
By default, it will show just a blank white page, and then when a charge is applied to the pixel, a black ink will rise to the front of the display to turn it black. By doing this across the display, it can display text and simple graphics very easily. Once the pixel colour is swapped, it doesn't require a charge to stay that way, you only need power to change pages. Therefore, battery life for devices such as a Kindle Paperwhite is advertised as being able to last for weeks.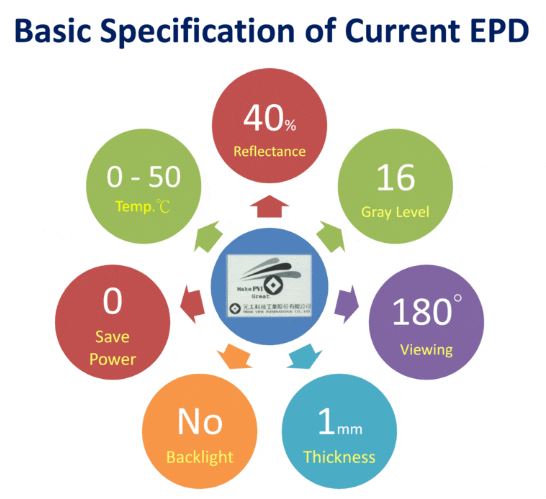 CHECK OUT THE WIKIPEDIA PAGE FOR A GREAT TECHNICAL OVERVIEW  
 Key Features;
Industry standard SPI interface
Evaluation Kits available for easy set up and development
Possible industrial / commercial applications
Low Power Digital signage
Low power electronics shelf label (ESL)
Low power Digital shelf edge
Transportation info displays
Traffic signs including solar powered etc.
Benefits of CDS E-Paper Technology
Low Power Consumption – ePaper is bi-stable and doesn't consume energy once the text/images are in place.
Sunlight Readable – ePaper reflects light just like ordinary paper providing the best digital experience for the viewer because of the stable image, wide viewing angle and reflective properties rather than emitting its own light.
Natural looking text in any lighting condition.
Durable and Reliable – Comprehensive environmental robustness – continuously improved sealant methods, moisture protection, UV block and mechanical protection.
CLICK HERE TO SEE AN AMAZING EXAMPLE OF THE USE OF E-PAPER TECHNOLOGY
Check out the E-Paper Flyer as below- DOWNLOAD YOUR COPY
For specifications and pricelists please simply contact us by emailing info@crystal-display.com or call our UK office +44(0)1634 327420.
*Images showing examples of possible applications for Bus stops in Germany.
Click Here for Standard Colour Small Format TFT LCDs
Click here for the latest EL display updates
Take a look at our full range of Open Frame Monitors
Also see our cutting edge Touch Monitors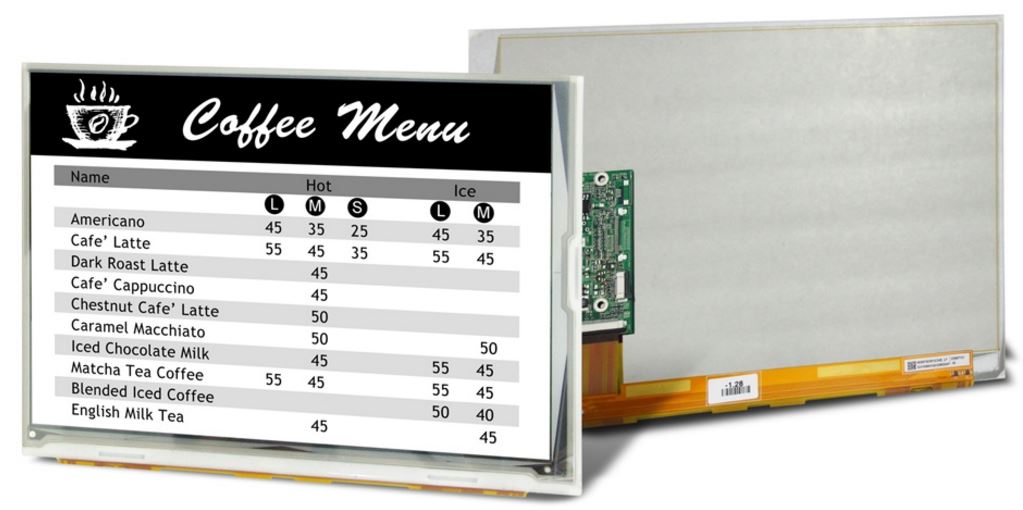 Applications can include pricing labels in supermarkets and retail stores, Transport including bus and railway timetable boards, health and fitness displays, IoT devices, electronics information boards and bill boards, as well as many other new and developing applications.