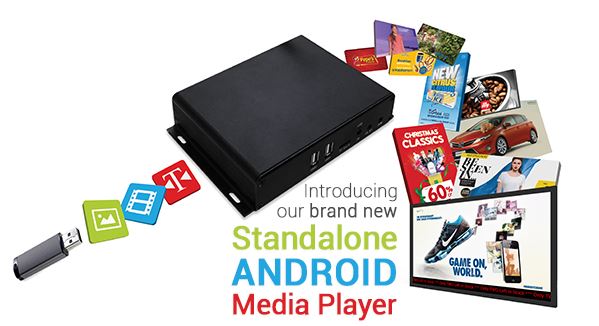 Our HD Media Players are perfect for creating a low cost, reliable, standalone Digital Signage Solution.
We have recently updated these products and they will now feature an Android PC board. This fantastic upgrade will have a host of improved features and is available for the same great price.
As well as retaining all of the features of the old model (such as simple USB update, scrolling text messages and free scheduling software) the Standalone Android Media Player will also have a few improvements, such as:
Faster Processing Time – the Android PC board makes it quicker than ever to copy your images and videos over from your USB stick to the media player.
4 x Internal Memory – the new model has an 8GB internal memory, compared to our previous model's 2GB.
Easily Network Upgradable – these media players are future proof and can easily be changed to a network media player in the future, meaning you would be able to remotely update your media player over the internet.
Run 3rd Party Standalone Apps – You can now run your own Android compatible third party standalone app.
Connect to your display and update via USB drive with no additional hardware, software or operating system required.
How they Work
The Standalone HD Media Player allows you to convert existing displays, such as TVs or PC monitors, into Digital Signage displays that can then be updated easily using a USB memory stick. Connect the media player to your existing screen (via HDMI or composite), load your pictures and videos onto a USB memory stick then insert it into the media player, which will copy the files into its internal (SD Card) flash memory. Once you remove the memory stick the media player will then start playing the pictures and videos in a continuous loop in the order in which you loaded them onto the USB stick.
Scheduling Options
For more advance use the Standalone HD Media Player comes with a piece of free Scheduling Software for displaying different content at different times of the day as well as setting image display durations and transition effects. For example, a restaurant can create three daily schedules; the breakfast menu in the morning, lunch menu in the afternoon and the dinner menu in the evening. If you prefer to keep it simple you can update the media player directly without using the software.
Other Features
If you want you can also display a "ticker tape" style scrolling text message along the bottom of the screen, to help you get your message across or help highlight any specific promotions or offers.
The eco-friendly power timer allows you to assign daily or weekly on and off times for your media player. The ability to power on and off automatically means that the media player is only in use when it needs to be; improving your environmental efficiency.
The Standalone HD Media Player is engineered using commercial grade components and id designed to be in constant use. The media player has no external controls and cannot be updated unless the locked door is opened, giving it extra security in public spaces.
For an excellent overview of our Digital Signage Solutions please click here
For more info on our HD media players, please contact us
Check out our full range of Transparent Showcase Solutions