Infrared IR touch screens are one of the most reliable touch technologies on the market today.
Our infrared touch screens consists of a touch frame which is installed in front of the display. The frame is integrated with a printed circuit board which contains a line of IR-LEDs and photo transistors hidden behind the bezel of the touch frame. The bezel shields the parts from the operation environment while allowing the IR beams to pass through, so you are left with a grid of invisible beams in front of the display.
When a touch input is applied, it interrupts the IR light beams. The Photo transistors from X & Y axes detect the IR light beams which have been interrupted and transmit exact signals that identify the X & Y axes coordinates to the PC / host.
Applications for IR Touch include Kiosk, Medical instrumentation, ATM, Retail, Commercial transportation, Advertising display, Digital Signage and many other industrial applications.
Features:
True Multi Touch without Ghost
Slim Bezel
Cost Effective
Easy Installation
High Stability & Reliability
Integrated controller
Benefits:
1. High stability 
Changes in the time or environment will not cause any drift.
2. High light transmittance
The touch screen has no intermediate touch overlay, enabling light transmittance to reach as high as 100%.
3. Long service life 
Extremely durable, scratch resistant
4. Easy activation 
Touch pressure is not required; no special material is required for touch activation. An activating stylus can be used whether soft or hard – conductor or nonconductor.
Specification
 

Touch Panel

Available sizes
10.4″~103(Custom sizes available upon request)
Touch Input Method
Pen, Finger, Gloved hand or any other pointer
Minimum Touch Object
5~7mm(depends on each model and size)
Touch Response time
4.5 ~ 15ms(depends on each model and size)
Touch Durability
Unlimited
Resolution
16384 X 16384(based on controller resolution)
 

Mechanical

Housing
Aluminum, Black
Glass
Option(Custom versions available upon request)
 

Electrical

Operating Voltage
DC4.6V ~ 5.25V
Power consumption
USB : < 2W, Adapter : < 3.5W
 

Environmental

Temperature
Operating : -10℃ ~ +60℃
Storage : -40℃ ~ +85℃(8hr still)
Humidity
Operating : 10% ~ 90% RH(Non-condensing)
Storage : 10% ~ 95% RH(Non-condensing)
Interface
USB2.0 Full speed, HID Compliant Plug & Play
You may also be interested in;
Large Format IR Monitor Overlays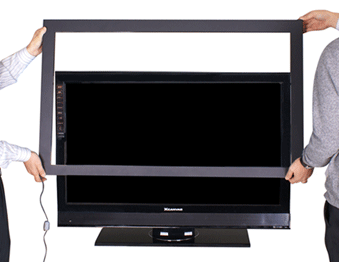 We also have a range of large format overlays, to add interaction to existing large format monitors.
Sizes




(inch)

Display




manufacturer

Display




manufacturer's model

Panel

NEXIO model

32

Sony
Sony KDL32
LCD
NIB320BP-UWIA5-MBK-SONY1
Samsung
SS320PX
LCD
NIB320BP-UWIA5-MBK-PX001
SANYO
32XR8DA
LCD
NIB320BP-UWIA5-MBK-XR8D1

40

Samsung
SS40PX
LCD
NIB400BP-UWIA5-MBK-PX001

42

SANYO
CE42LE1
LCD
NIB420BP-UWIA5-MBK-CE421
SANYO
42XR8DACI
PDP
NIB420BP-UWIA5-MBK-XR8DA
LG Electronics
42PG10DS
PDP
NIB420BP-UWIA5-MBK-42PG1
LG Electronics
42LC4D
LCD
NIB420BP-UWIA5-MBK-LG001
Winmate
ICD42
LCD
NIB420BP-UWIA5-MBK-WIN01
Panasonic
TH-42PH9
PDP
NIB420BP-UWIA5-MBK-42PH1
Samsung
PPM-42M7H
PDP
NIB420BP-UWIA5-MBK-M7H01
Goldwin
Goldwin42TV
LCD
NIB420BP-UWIA5-MBK-GD001
Fugitsu
Fugitsu 42TV
PDP
NIB420BP-UWIA5-MBK-PJS01
LG Electronics
LG 42TV
LCD
NIB420BP-UWIA5-MBK-LG001

50

Panasonic
TH-50PH
PDP
NIB500BP-UWEA5-MBK-50PH1

52

Samsung
LN52A750R1F/W
LCD
NIB520BP-UWEA5-MBK-750R1
Winmate
Winmate 57
LCD
NIB520BP-UWEA5-MBK-WIN01

60

LG Electronics
60PG6
PDP
NIB600BP-UWENG-MBK-PG601
Gland Display
Grand Display 60
PDP
NIB600BP-UWEN5-MBK-GD001

63

Hulif
HUlif 63
PDP
NIB630BP-UWENG-MBK-HR003
Samsung
63M7F
PDP
NIB630BP-UWENG-MBK-M7F01

70

Samsung
Samsung DXN
LCD
NIB700BP-UWENG-MBK-DXN01

71

Hulif
Hulif 71
Projector
NIB710BP-UWENG-MBK-HR003
LG Electronics
710 LG
Projector
NIB710BP-UWENG-MBK-LG001
For more information on our range of touchscreen overlays, please contact us by clicking here or call our sales team on +44 (0)1634 327420.