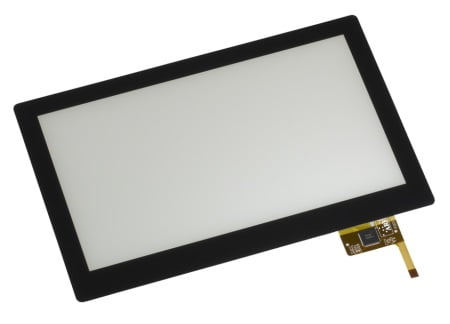 Projected Capacitive touch screen technology works off of an electrostatic field that is created by layers of conductive materials that are individually etched to form a grid pattern of electrodes. A touch event occurs when a finger or conductive stylus interferes with the electric field projected above the surface. This change in capacitance is detected by the controller which interprets the X and Y coordinates of the event. Multiple fingers can be tracked simultaneously and the controller supports common multi-touch gestures.
Features:
ㆍUp to 65″ / 84″ available
ㆍMulti touch (10 points, 40 points)
ㆍNo moire and invisible wire
ㆍ0.5mm gap between LCD and touch sensors
ㆍVariety glass option supported
-Mirror glass, AF, etc.
-Custom size and shapes of coverglass
ㆍHigh Speed response time
ㆍMarker objective sensor readable
Specification:
Technology

PCAP – Metal Mesh

Available Sizes(diagonal)

18.5 inch ~ 65 inch
(Customization is available)

Multi-touch point

10 & 40 points

Glass

Optional

Clear (Light transmission of up to 91%)
or Anti Flare (gloss 90 ~ 130%, haze 5 +/-2)
Mirror glass, AF (anti-finger),
Custom sizes/shapes available

Thickness

Up to 12mm

Minimum Touch Object

8mm for finger, 3mm for conductive stylus

Touch Response Time

5~16ms depends on touch points number

Touch Input Method

Finger, gloved or ungloved, Conductive stylus

Sealability

Ability to be NEMa4, 12 and IP65 compliant
Electrical:
Operating Voltage

DC 4.6V ~ 5.25V

Power Supply

USB Powered

Power

USB : ≤ 2.5W

Interface

USB2.0, HID Compliant Plug & Play

Operating Systems

Windows7, 8, Linux, Android
Mac (needed driver install)
Environmental:
Humidity

Operating : -20℃~ +60℃
Operating : 10% ~ 90%RH @ 40℃(Non-condensing)
Storage : 10% ~ 95% RH (Non-condensing)
Check out our PCAP touch overlay in action as below being tested with a customers custom deigned covered glass.
Interested in a fully enclosed or open frame touchscreen monitor, CLICK HERE.
For more information on our range of touchscreen overlays, please contact us by clicking here or call our sales team on +44 (0)1634 327420.