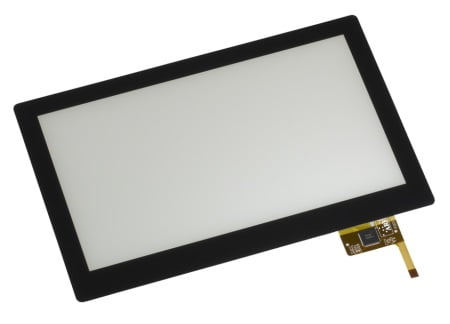 Projected Capacitive touch screen technology works off of an electrostatic field that is created by layers of conductive materials that are individually etched to form a grid pattern of electrodes. A touch event occurs when a finger or conductive stylus interferes with the electric field projected above the surface. This change in capacitance is detected by the controller which interprets the X and Y coordinates of the event. Multiple fingers can be tracked simultaneously and the controller supports common multi-touch gestures.
Features:
ㆍUp to 55″ available
ㆍMulti touch (10 points, 40 points)
ㆍNo moire and invisible wire
ㆍ0.5mm gap between LCD and touch sensors
ㆍVariety glass option supported
-Mirror glass, AF, etc.
-Custom size and shapes of coverglass
ㆍHigh Speed response time
ㆍMarker objective sensor readable
CDS, as a touchscreen distributor, has a wide range of PCAP touchscreens covers many options including:
Touch screen display panels, customs touchscreens, touch screen Display technology, industrial touch screen, touch screen controllers, Gaming touch monitors, touch displays, touchscreen design, PCAP screens, industrial touch monitor, HMI touch screen panel, HMI panels, abontouch, AMT Touch screen, Zytronic touch, zytronic Zybrid, 42 touch screen, Casino touch monitors, multitouch monitor, touch table kaufen, interactive displays, multi touch screen monitor, multi point touch screen, touchscreen Aufsatz, vertical touchscreen monitors, in wall touchscreen monitor, multi touch screen, multi touch overlay, multitouch table,  EETI, Citron, 8 wire resistive touch screen, industrial touch screen PC, rugged solutions, large Display, panel mount touchscreen PC, large format touch screen,industrial touch panels, touchscreen distributor, 42 inch touchscreen, touch screen monitor UK, touch screen frame, add touch screens to monitors,  and abon touch.
You may also be interested in;
Interested in a fully enclosed or open frame touchscreen monitor, CLICK HERE.
For more information on our range of touchscreen overlays, please contact us by clicking here or call our sales team on +44 (0)1634 327420.