Power Supplies from Crystal Display Systems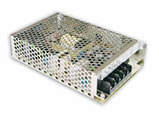 At CDS we aim to deliver the complete solution to all our customers.
We have thoroughly tested the range of power supplies which we recommend for use with our TFT kits.
These carefully selected power supplies have been evaluated under stringent tests and we are happy to recommend to our customers.
Manufacturers we can supply includes Mean Well and Li Shin power supplies including Mean Well's RSP and LRS series.
All power supplies are fully RoHS, EISA and CEC compliant
| Name | Dimensions (WHF) | Output | Power | Storage Temp | Manufacturer |
| --- | --- | --- | --- | --- | --- |
| LSE9901B1260 | 110x64x31.5 mm | 12VDC/5A | 60W typ. | -40+70°C | Li Shin |
| RS-100-12 | 159x97x38 mm | 12VD/8.5A | 102W typ. | -20..+85°C | Mean Well |
| S-150-24 | 199x110x50 mm | 24VDC/6.5A | 156W typ. | -20..+85°C | Mean Well |
| SP-320-24 | 215x115x50mm | 24VDC/13A | 312W typ. | -40..+85°C | Mean Well |
| USP-350-24 | 235.2×101.5x38mm | 24VDC/14,6A | 300W typ. | -40..+85°C | Mean Well |
| SP-750-24 | 278x127x63.5mm | 24VDC/31,3A | 751.2W typ. | -40..+85°C | Mean Well |
| RSP-1500-24 | 278x127x83.5mm | 24VDC/63A | 1512W typ. | -40..+85°C | Mean Well |
For more info on our power supplies, please contact us