.
Crystal Display Systems (CDS) has launched and now shipping the World's largest Transparent (sometimes referred to translucent) LCD panel which is the Whopping Samsung 70" full HD (1920 x 1080) TFT LCD panel with 4000:1 contrast ratio.
"THIS WILL BE ON SHOW AT THE INTEGRATED SYSTEMS EUROPE EXHIBITION (WWW.ISEUROPE.ORG)"
This solution is available as panel only or panel plus custom power supply and interface solution with HDMI input to give a 'Plug 'n Play' solution.
The 70" panel size will allow retail and industrial designers and other companies' greater flexibility of design with the opportunity to place larger items behind the transparent screen whilst also utilising the FULL HD resolution for better and crisper content and display images.
CDS has taken a Samsung industrial panel and created an amazing solution suitable for many wide ranging and growing applications.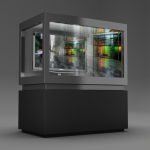 Could you imagine a full mannequin with branded clothing within the 70" transparent solution?  This and many other applications such as exhibition stands, museum pieces and many other applications could benefit from this brand new 70" solution.
Applications could include: Retail, Blue chip brands, exhibitions, Industrial Promotion, Casinos, high end Gaming machines, innovative Kiosks, digital signage, Museum exhibits, product / brand promotions, reception area / entry hall centrepieces etc.
A standard fully enclosed ClearVue showcase solution is to follow available in 2 different design options, with customised boxed solutions available built to the customers designs.  The showcase solutions will also be available with touch screen interaction. As with all the CDS Showcase solutions all the internal components / lighting are included and designed for optimum performance.
For more information please do not hesitate to contact us  on  +44 (0)1634 292025 or email us at info@crystal-display.com
.