A/V over Gigabit Ethernet Adaptor from CDS
.
.
.
.
.
.
.
A revolution for the AV Industry. This device enables a display to be connected to your PC from anywhere on the Local Area Network.
Elite Silicon USB-Ethernet Server coupled with The Display Link Video Compression Device..
Not only can you transmit the video data, but we also include Audio, and two downstream USB ports. This enable you to connect peripherals to the adapter, local to the display device.
Applications areas range from in home entertainment/infortainment to Zero Client installation in schools/universities and more.
The A/V over Gigabit Ethernet Adapter enables you easily to connect up to 6 monitors or projectors from a computer.
You may perform a high quality presentation and DVD video transmission by high throughput of Gigabit Ethernet
Possibility to remotely access you PC via the network using connected peripherals such as mouse/keyboard.
The display nodes can be up 100 meters away from your computer with CAT6 cable.
No more need for point to point VGA-CAT5 Extenders
Lower installations Costs
Below are a couple of example illustrations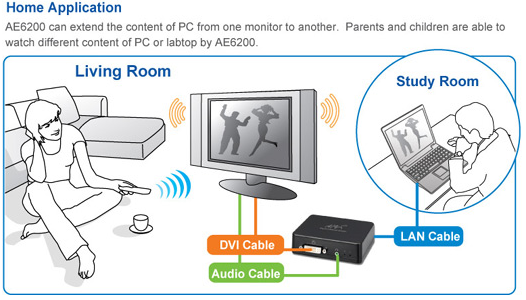 .
.
.
.
.
.
.
.
.
.
Corporate/Home installations

.
.
.
.
.
.
.
Digital Signage Application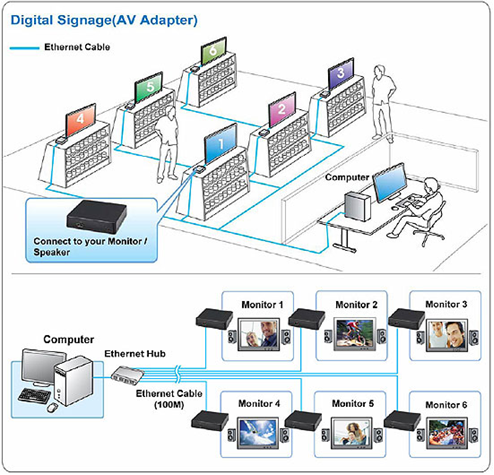 .
.
.
.
.
.
.
.
.
.
.
.
.
.
.
We really believe the above products are a big step forward in the AV Market and welcome any enquiries or questions you may have
Please contact us now!