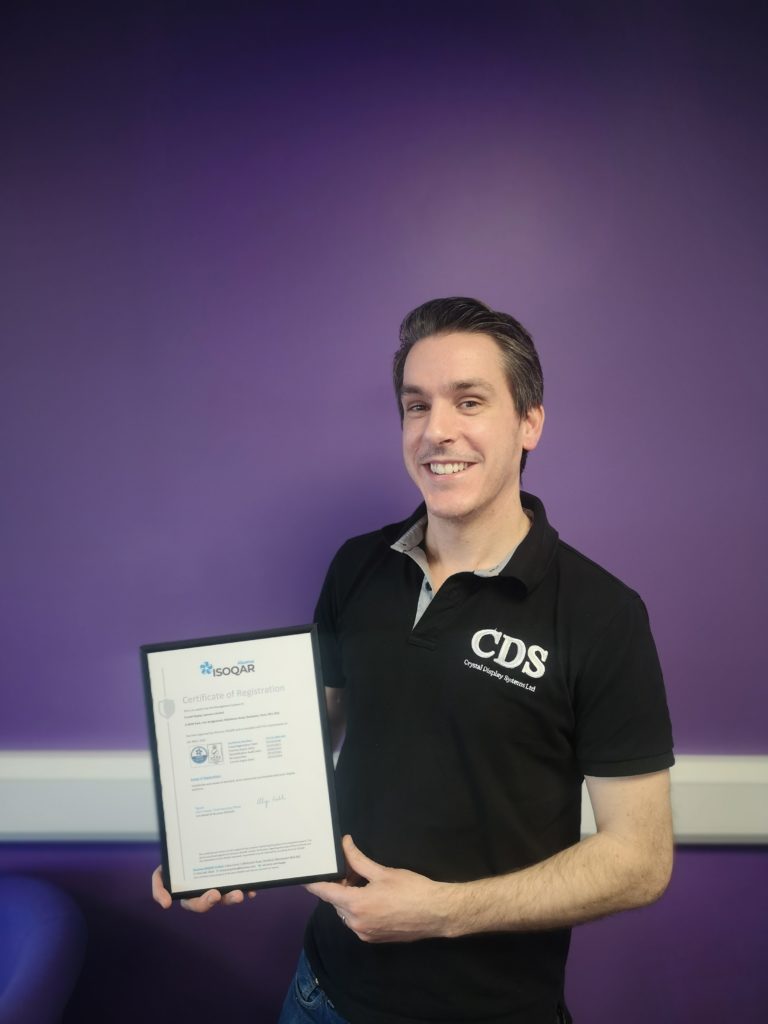 ISO14001 Environmental Management Standard Accreditation
As part of our ongoing business development Crystal Display Systems is pleased to announce our recent certification to the ISO14001 Environmental Management Standard.
The certification has been overseen by our Technical Director, Tony Large and adds to our existing ISO9001 accreditation.
ISO 14001 is an internationally agreed standard that sets out the requirements for an environmental management system. It helps organizations improve their environmental performance through more efficient use of resources and reduction of waste, gaining a competitive advantage and the trust of stakeholders.
Tony Large, Director and Joint Founder CDS, with our ISO 14001 Certificate.
"With the world' focus very much on the future of our environment, CDS seized the opportunity having recently move premises, to invest and make our operations as sustainable as we can. This not only saves money in the long term but supports our continual business improvement processes. This environmental management system demonstrates our commitment to sustainable growth and environmental awareness within our operations."

A new premium quality Solar Array installed on our south facing roof generates up to 150% of our energy requirements (Excess is Exported to Grid)

Renewables Only Energy Contracts, with no Fossil Fuel use

Electrification of Company, and staff Vehicle fleet throughout 2022

Installation of Electric Vehicle Chargers at HQ

LOW GWP Rated Air conditioning & Heating System
Our combined Quality and environmental manual set us objectives to continually improves our business and is overseen by our senior management team.
Our quality and environmental policy can be found on our website.
Copies of our certificates are available to customers on request.
Call us today +44 (0) 1634 791600