Transparency for Welcoming Retail Back
The retail market has been hit hard during Covid times with trade shows all around the world cancelled and shops, bars, restaurants etc not being able to open. As exhibitions go into re-planning and venues begin to reopen, we thought it would be the perfect time to launch our dramatically reduced transparent displays pricelist.
Whenever we ask for customer feedback following their transparent installs and case studies, we are constantly told that the transparent display integrated at the attraction, venue, exhibition etc. is always the most talked about piece. This could even be when the transparent display was not originally set to be the "main event" or even the transparent display was an after-thought or a smaller display compared to the whole display integration.
This is because transparent displays are still deemed as new, exciting, revolutionary, innovative, all despite the technology being around for several years. Not only this, but they also guarantee to amaze and WOW audiences, and they open a wide range of new opportunities in retail, marketing and much more.
In addition to this, there are so many options and possibilities with transparent displays. Sizes, touch options, components or finished products, options for 3D etc. Panel kit solutions are exceedingly popular for the creation of designer's own models and ideas and the possibilities are endless, especially when clever content creators and integrators come along with incredible plans to optimise the existing technology. 
WATCH TRANSPARENT LCDS IN ACTION BELOW
WATCH OUR LONGEST STANDING LCD INSTALL EVER

We have the widest range of transparent displays available with some unique offerings including the world's largest 98"! Not only this but also the smallest with 10" solutions for compact applications or for testing and approvals. 
Our transparent LCD kits include the full package needed for integration, a transparent display panel with supporting frame, interface card with USB and HDMI inputs, and a power supply. An ideal solution for flexible and easy design and installation. This is effectively a plug and go kit with the client only needing to add backlighting, housing, and content. In addition to this, as a part of the service CDS, we also offer some excellent free of charge content, so the customer does not even have to worry about that in the initial design / demonstration stage. A price-less additional helping hand that really assists customers with their first steps towards their final transparent display masterpieces.
If you do not wish to integrate anything and would prefer a finished solution, then CDS's excellent ClearVue transparent showcases (transparent LCD display cases with touchscreen options) are ideal for you. The plug and play showcase boxes will help you demonstrate your products in a dynamic and innovative way that will amaze your visitors and create that WOW factor as soon as they enter your store or business.
The CDS interactive transparent LCD showcases are available in all sizes. But in large format for larger designs ideally viewed from some metres away the CDS Translucent LED range can be an excellent option, and ideal for large screen store windows etc. The final option in the CDS range is the Translucent Refrigerators / coolers which give retail, museum, and exhibition booths that WOW factor they need. Check out the Transparent refrigerators.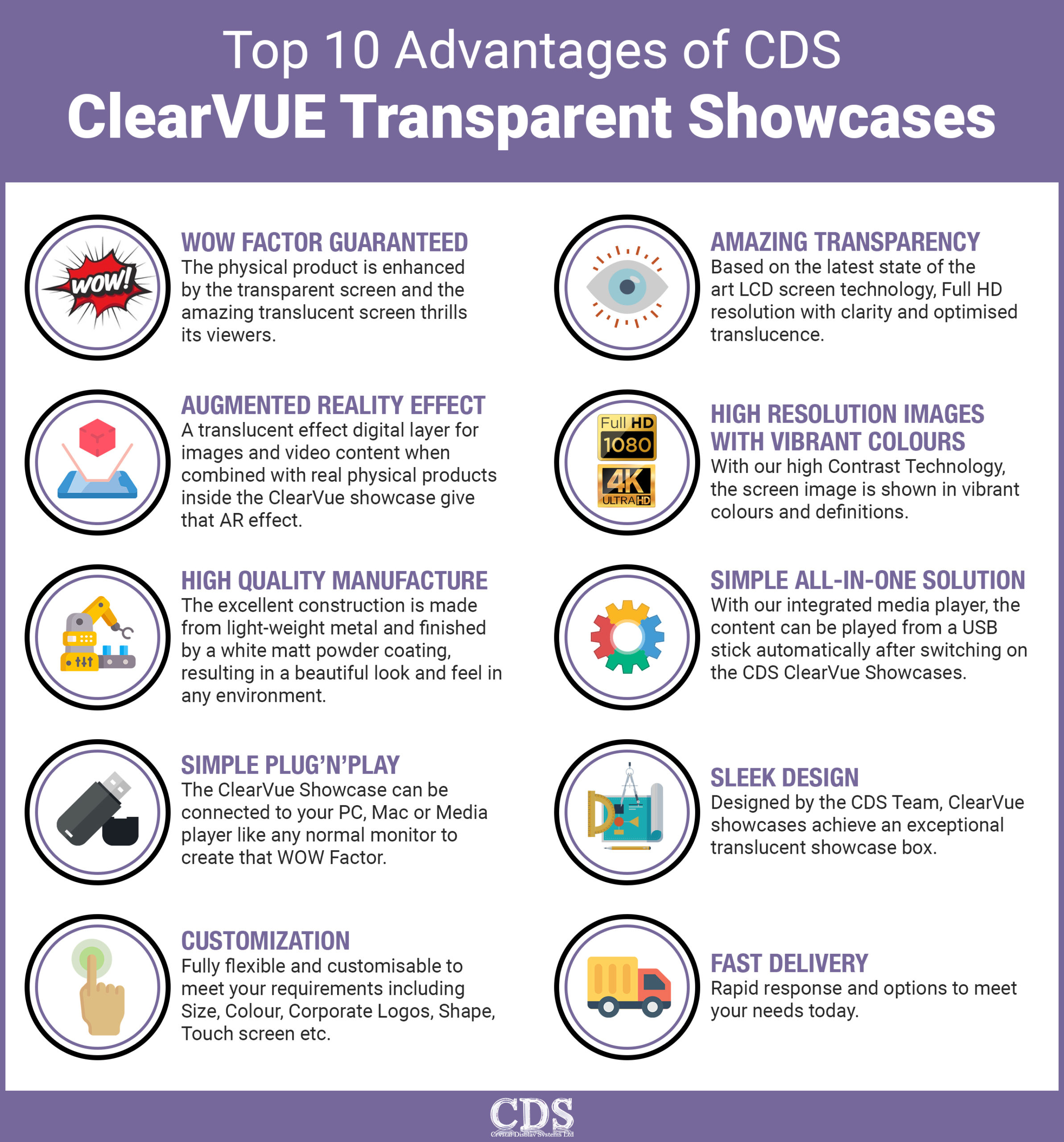 Call us today +44 (0) 1634 791600